January 7, 2021
2021 New Year Resolutions
Well, another year has gone by. And what a year it was! 2020 dug deep in its bag of chaotic goodies and threw the book at us: COVID-19, protests, shutdowns, lockdowns, a presidential election, and let us not forget Tiger King (doesn't that seem like ages ago?). Now, it's time to set 2021 New Year Resolutions.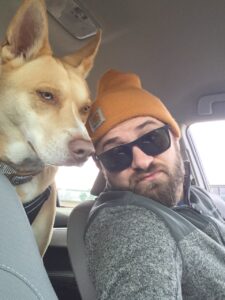 If you are fortunate enough to work remotely and have a pet, you undoubtedly had to change your schedule a bit to accommodate them. My dog is named Loki and he's adopted. He's a big, loveable goofball. I wouldn't trade him for anything. Though, as the COVID shutdown weeks, turned into months, I have admittedly slacked off in my responsibilities as a dog dad. So for my 2021 New Year Resolutions, I'm setting goals for both of us.
Part of the reason I'm writing this blog is to say it's OK if things were a bit slack last year; even those who work with pets on a daily basis let things fall through the cracks. The other reason I'm writing this post is to link you to many other blogs from the Rover-Time archive that contain information, guides, tips, and referrals to help you start 2021 right. Let's make things easy to begin the year.
2021 Goals
exercise
I'll be the first to admit, I don't walk Loki enough. He probably needs 1.5 to 2 hours of exercise a day based on what we think his breed is. When it was nice out, I often took him on a couple of 25-40 minute walks a day but now, it's a little more difficult to squeeze in the exercise time with work, the weather, etc. Playing and exercising with your dog is incredibly important to their health, both physically and mentally.
So the goal I'm setting for Loki and me is 60 minutes of walking a day minimum, plus house games to get to that 1.5-hour mark. If your dog doesn't especially like the cold, there are lots of indoor games you can play with your pet to help them burn off that extra energy. Here's a guide to 3 Simple & Easy DIY dog toys if you need some inspiration! Plus, any exercise your pet is getting, you're more than likely getting too! It comes as no surprise that "More Exercise" and "Lose Weight" are usually in the Top 10 of new year resolutions. I'd call this a Win / Win!
Training
When we got Loki, he needed a lot of training. Though he was 4 years old, his previous owners hadn't done much with him. He didn't know the basics of sit, down, come, etc. Plus, his leash etiquette was awful; he dragged us all over the place.
After trying a few different walking harnesses and leashes, we found the sweet spot that gave him mobility, but also kept us in control. Also, he is a swift learner. He quickly caught on with a lot of treats, praise, and patience using the positive reinforcement training method. But as time went by and his worst habits disappeared, finding new things to teach him, took a back seat.
So for 2021, my new year resolution is to teach him one new trick a month. Loki tends to learn best when I combine verbal and visual commands, so try using both if you'll be teaching your pup some new tricks. As with all training, patience, patience, patience is the key. If you're just starting out with a newly adopted dog, or your long time family pet could use a refresher, teaching "Recall (come)" is a great spot to start.
Health
Health is a part of both exercise and training, but there are other things you can do at home to improve the life of your pet. We all know vet visits, proper medications, and regular bathing are important but thinking a bit outside the box is sometimes needed. Earlier this year, I wrote a blog about food and water bowls for pets.
Honestly, it grossed me out. TONS of stuff is growing in there and some materials can damage your dog's nose. I threw out my old bowls and bought new stainless ones the same day I wrote the post. But I fell off with washing them as often as I should. So my 2021 goal for us is to wash his bowls every day. It's a simple one, I'll admit. But small goals are important too!
2020 is over. Finally.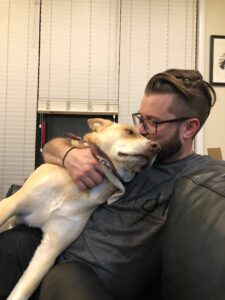 Let's start 2021 off on the right foot. Think positive, be kind to yourself. 2020 was a crazy, awful year. Time to move on and start fresh with New Year Resolutions. Above all, love your pets; even if they sometimes don't enjoy your hugs. Trust me, they will forgive you at dinner time.
Happy New Year from my family to yours!
Brock Casper is the Southwest Region Team Manager for Rover-Time and has been part of the RT team for over two years. When he isn't working he enjoys reading, playing video games, watching horror films, and going on walks with his dog, Loki.  He lives in Cleveland with his partner, Laurel, and cat, Coltrane. They enjoy making delicious food together and watching cooking shows. Go Browns!