January 4, 2021
Meet the dog of the week: Ed
Ed's stick finding buddy Nicole knows all the deets about Ed
Meet the dog of the week: Ed! Ed is a cute and goofy boy who LOVES sticks and walking around the park.
Dog's Name: Ed
Owner's Name: Daniel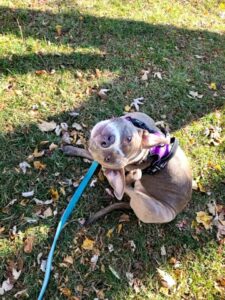 Breed: Pitbull Mix
Birthday: May 1, 2019
What are Ed's favorite foods? He loves any stick he can find on our walk and of course, his training treats.
What are Ed's favorite tricks to do for a treat? He loves to sit before we cross the street. He'll give you his full attention and patiently wait for his reward.
What is Ed's idea of a perfect day? His perfect day would be chewing on a few sticks and being able to run up to strangers and jump up on them for tons of pets.
Theme Song: "Found a Stick" – TikTok.
Favorite Activity: People watching and stick hunting
Nicknames: Baby, Perfect boy, Bud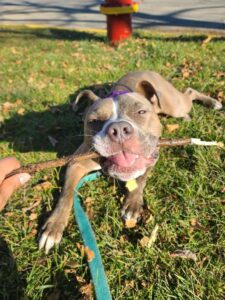 What challenges did you encounter with Ed? He is a HUGE jumper. He loves people so much and he jumps on them to show his affection. He's gotten so much better though and excitedly sits and waits for me when we start his walks!
What is your favorite memory of Ed? How good he sat and didn't jump on me when I arrived for his walk. His paws were still doing a little tapping happy dance but he held himself back and sat down perfectly instead.
If Ed had a catch-phrase, what would it be? "Sticks are food, not friends."
If Ed was a famous movie character, who would it be? Buddy the Elf
Thanks for reading about our furry friend Ed
We are so glad you got to meet our dog of the week, Ed. Ed would also like to say "Let me know when and where you throw out your tree so I can steal some sticks!" Keep your eyes peeled for more dogs of the week!