January 11, 2021
Meet the dog of the week: Belle
Belle's companion Chloe goes above and beyond caring for this senior dog
Meet the dog of the week: Belle. This sweet older lady demands and deserves all of your attention!
Dog's Name: Belle
Owner's Name: Josh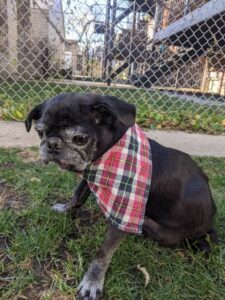 Breed: Pug
Birthday: April 28, 2009
What are Belle's favorite foods? Belle doesn't have very many teeth these days, so she goes crazy for her specially delivered raw meat and vegetable mush. While eating her mush, Belle becomes an absolute fiend and gets it all over her face. She also loves a good CBD treat.
What are Belle's favorite tricks to do for a treat? Belle keeps it simple. She is a special senior dog and does not have much feeling in her back legs/general rump area, so she gets a lot of praise for standing on her own for an extended period and walking in the backyard with a little assistance.
What is Belle's idea of a perfect day? She would love to eat that raw mush all day. Also, snoozing on the couch/in her bed right by her humans. As well as getting constant attention all day!
Theme Song: The Pinky and the Brain theme, with Belle being Brain, a mad genius, just not evil. 
Favorite Activity: Definitely eating and hanging out in the kitchen in her bed. As long as her humans are near and she has a comfy place to lay, she is set.
Nicknames: Belle-Belle, Belle of the ball, "Crazy lady"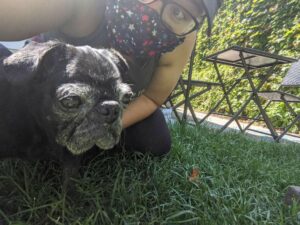 What challenges did you encounter with Belle? As I mentioned earlier, Belle has little to no feeling in her back end. So she needs a little help when it comes time to go potty. I believe the technical term is immersion. Essentially, I push on either side of Belle's bladder to help her pee. This year she has been having a harder time keeping her back legs up, so we've been playing around with a lot of different ways to practice staying standing so that she can maintain some muscle build in her back legs. Outside of that she can also be a little grump and has quite the bark, but that only comes out if I'm not giving her enough head scritches or she's too cold.
What is your favorite memory of Belle? Belle is a sweet lady despite her health issues. She is very loving and just wants to be near her people all the time. I love getting her tail wagging when we're outside. She has a classic pug tail, the perfect swirl, and it is so cute seeing her wag and being so attentive when she gets scritches.
If Belle had a catch-phrase, what would it be? "And where do you think you're going?" *considerable side-eye*
If Belle was a famous movie character, who would it be? I've decided that Belle is, in fact, the Brain to Pinky's Pinky. She is a mad genius who knows just how to get humans to do her bidding. Not quite taking over the world, but close.
Thanks for reading about our sweet friend Belle
We are so glad you got to meet our dog of the week, Belle. Also, Belle asks why you aren't petting her right this second. Keep your eyes peeled for more dogs of the week!