May 20, 2014
For anxious dogs, life is a bit scary. They cower when a dog lunges their way and shake nervously when the vet approaches with a needle. They look as if they expect things to hurt, even if it's simply the offer of a friendly pat from a passing dog lover. If this sounds like your dog, give acupressure a try! With regular use, acupressure will help your dog to trust your touch and relax a bit in the face of life's inevitable challenges.
How It Works
Most dogs LOVE receiving acupressure and it's really easy to do. Your gentle touch triggers the release of your dog's feel-good hormones. She starts to breathe more deeply, feel sleepy, and let out a calm, relaxed sigh as her soft head nestles in your lap. It's hard to imagine that only moments ago she was shaking with fear.
Acupressure brings positive emotional change. Your simple, caring touch transforms her habitual stress response and guides her to a happier place. With the two of you connected through touch, she's reminded once again of your deep bond. And you get the satisfaction of helping her in a meaningful way just when she needs it most.
With a bit of practice, you'll be able to use acupressure to lower your dog's stress levels in all kinds of difficult situations. Here are a few everyday situations your dog may encounter:
Dealing with aggressive dogs
Receiving veterinary care
Fear of thunderstorms or fireworks
Anxiety when you leave the house
So let's give it a try!
Acupressure is easy; you don't need years of experience to start helping your dog right away. These techniques are safe and simple enough for anyone to try. One of the absolute best points to use for an anxious dog is Heart 1 (HT 1). This point is easy to find and most dogs find it deeply relaxing. And it will work for any animal – cats and guinea pigs included.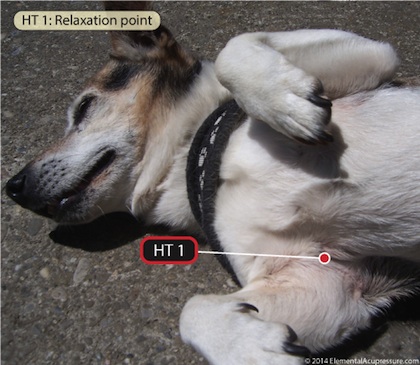 Sit near your dog. Have her lie next to you. If she's too wound up, have her sit or stand instead. Gently stroke the armpit region with a flat hand, following the direction of the hair from front to back. After a few strokes, gently place your fingertips (no long nails, please!) in the armpit crease. Find the deepest spot in the center of the crease, about halfway from the front to back. Take a look at the photo for guidance.
Now gently press and hold the point while breathing deeply. When you breathe deeply your body and mind relaxes. When you are relaxed it lets your dog know she's safe and invites her to relax with you. Maintain pressure for 10 to 60 seconds or as long as your dog stays receptive. Then SLOWLY release pressure and finish off with a few more flat hand strokes.
The more acupressure your dog receives, the quicker she'll respond to your touch. If your dog is prone to anxiety, use this point regularly (daily if possible) so she becomes accustomed to it. Then in a time of stress, she will remember these quiet moments of connection and be able to relax more quickly.
Want to see a high-energy Jack Russell turn into a puddle of happiness? Check out this video of Jewel receiving acupressure on Heart 1. It's hard to believe that she was running around like crazy only moments before this video was shot. With a little practice, your dog can learn to relax well too.
Try Heart 1 tonight and let us know what your dog thinks about it. We'd love to hear your stories!
Are you interested in dog walking services and live in Chicago?
Contact us today at support@rover-time.com or visit our Home Page for more information! 
---
WANT more pet health information?
Check out these other blogs by rover-time!
The Best Type of Bowl for Your Dog
The Health Benefits of Owning a Dog
5 Reasons You Should Play With Your Dog
4 Reasons You Should Spay Your Pet
Rover-Time's Tips, Tricks, and Gear for Better Walks!
About the Author:
Susan Tenney, CMT works internationally as a practitioner of Five Element acupressure for animals. She teaches classes for animal lovers of all ages and offers an online certification program through her company Elemental Acupressure. Learn more about her courses, books and acupressure charts at www.ElementalAcupressure.com and www.facebook.com/elemental.acu