June 6, 2018
Rover-Time's blog is excited to begin featuring different team members in a Q&A format brought to you by our Lincoln Square staffer, Kirby. Today she'll interview Zoe Sjogerman, who's worked for Rover-Time for over two years!
Kirby and Zoe connected as actors, a passion they both share, but also bonded over their mutual love for New York city, animals, and of course, what she does when she's not walking dogs.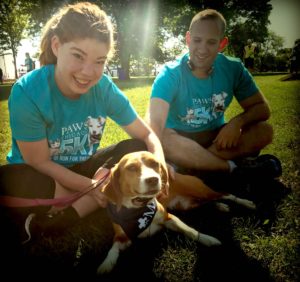 Kirby: You've lived here your entire life? Are you Chicago born and bred?
Zoe: I'm Chicago born and bred, but I left Chicago at 18 to live in New York. And I was in New York for eight years. And then I moved back here almost three years ago.
Why'd you come back?
I wanted to be an actor. I thought it was too hard in New York. I was working, but I wasn't doing theater. I got involved with a couple of theater groups in my time there, but all of them had fallen apart for various reasons.
It's pretty hard out there.
I just wasn't even getting auditions. And it just felt like I was working forty hours a week, but I was always broke. And living in New York is a wonderful and magical experience if you have a lot of money, and time to really explore the city. If I'm going to work forty hours a week and not do anything ever, I might as well live anywhere, you know? So I ended up deciding to move back to Chicago.
I'm amazed you made it eight years! Did you go to school there?
I went to the American Academy of Dramatic Arts. A two-year conservatory.
Well that's one reason I wanted to talk to you. I know we're both actors and trying to do the theater thing. But I know you went to New York and have the training! And I'm someone from North Carolina, who stayed in North Carolina for a good while. Where were you working when you were in NY?
I was working in Manhattan. I mostly worked for an Off-Broadway theater company. A theater called New World Stages.
How long have you been working at Rover-Time?
Over two years! I had my two year anniversary in February.
Cool! Congratulations.
Yes! Thank you. Rover-Time is such a cool company.
And I want to keep this job as long as I possibly can.
That's exactly how I feel.
Especially for an actor. The hours are splendid. And it's so flexible to get time off. It's amazing. Do you have any other jobs?
I babysit. I work for a company called Chicago Super Sitters and I really love them. Their system works really well for actors. I end up feeling really grateful for my dogs. At the end of a babysitting shift, you're like, my dogs are super easy. Just take them out, give them a nice walk. Kids are a lot of work. I also love house sitting. I do a lot of that.
What do you like about house-sitting?
I feel like it's a super fun way to really get to know Rover-Time's customers. Some dogs are super different when you're just hanging out with them. And you know, I love me some doggie snuggles!
Have you always been an animal lover?
We had a family dog whose name was Steve. He's got a good origin story. I knew that I wanted a dog named Steve. I was probably like ten or eleven. And I was like, "We're gonna get a dog, and we're gonna name him Steve." So we had to find a dog that looked like a Steve, right? And we wanted to adopt. We went to a bunch of shelters. We met a bunch of fine dogs, but no dogs that felt like "this is our dog." And then we went to this shelter, and the ugliest mutt. Like this super ugly mutt jumped on all of us, and licked our faces, and peed on my dad. And we're like, this is our dog. This is Steve.
Do you have a dream, goal, or aspiration when it comes to your acting work?
My goal is to someday be acting 100%. But honestly, I think I would be happy just making work that I'm really proud of. I think eventually, I'll probably start my own company again. Because auditioning is really horrible, and I just really want to work with people I like and respect as artists. I think my ideal company would have a mixture of classical works and new works. It's really important for me to do both things.
I noticed when I moved to Chicago the opportunity, all the original work, the diversity, and the intention behind everything that people are trying to produce. That's a big deal. And it's pretty cool that you can say you're going to start a company.
Someday. Not tomorrow. But it is important to me to have a good group of people I really care about. And to have voices that are different from my own. And Chicago is such a diverse place, there really isn't that much of an excuse to not try to find varied voices.
Do you have a favorite play?
August Osage County. It was the greatest thing I've ever seen. And then, Sleep No More. Just such an amazing immersive experience. And it's such a trap because you can go so many times, and tickets are so expensive. It's genius though. And I just love theater where the audience gets to move around.
When did you know you wanted to be an actor?
I think I've always known. For a while I thought I wanted to be a paleontologist because I love dinosaurs. But my parents are in theater and it just felt very natural. I've been doing it since I was a child. It was just really the only thing I could see myself doing.
What else do you do when you're not walking dogs?
I like listening to podcasts. I have a lot of favorites. One of favorites is Nerdette. I just started listening to this one called Our Fair City, which is from Chicago. Criminals, Someone Knows Something, Hello From the Magic Tavern is another Chicago podcast. My Favorite Murder, Gilmore Guys, Code Switch on NPR. I also cook. I do a ton of cooking. And reading.
Well! I think I've covered all the questions I had and much more! Thank you so much for talking to me about everything.
What a delight!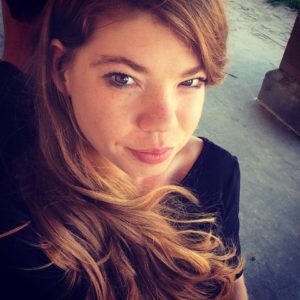 Thanks to Kirby Gibson, our Lincoln Square walker, for conducting this interview, and Zoe Sjogerman for her thoughtful answers.