May 30, 2018
We were first introduced to The DIY Dog Mom, Alicia Boemi through her amazing Instagram account. Scrolling through Alicia's profile, you'll find an adorable collection of happy smiling pups living their very best lives.
A local Chicagoan with an incredible pack of pups, The DIY Dog Mom shares what her four dog crew is up to on the day-to-day, along with recipes and reviews for home-cooked canine nutrition. We were perhaps most drawn to Alicia's passion for rescue work and providing care for dogs with special needs that she regularly shares in her posts. An advocate for holistic care, Alicia launched her business The DIY Dog Mom in 2015, providing general wellness coaching and natural nutrition guidance for pet parents. We were eager to learn more about the holistic approach to pet care and elated when Alicia said yes to a quick interview!
Without further ado, Meet The DIY Dog Mom herself: Alicia Boemi.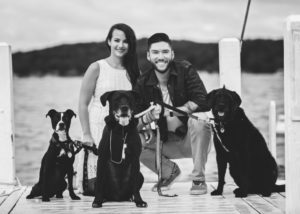 How did you get your start with the do-it-yourself approach to pet parenting?
To be honest it wasn't a choice I was given. When my dog Mylah was diagnosed with diabetes I was led down the wrong path by vets and decided I need to get it together on my own if I am going to do right by this dog. I was fortunate to eventually find an amazing group of vets for her from her specialty vet and her regular vet but I had to really start to do everything myself in between the vet care. This meant I had to learn a lot and quickly. This is how I started on the journey of homemade dog food, treats, care remedies and it just snowballed from there.
Can you tell us more about The DIY Dog Mom the wellness coaching services you provide?
I started The DIY Dog Mom as a place to share what I had learned, recipes and DIY projects I was doing for my dogs. It grew into a business which is more than I could've imagined. I was getting so many emails requesting guidance and information specific to certain dogs that I had to create the coaching services I offer. The coaching services are for pet parents seeking more information on general wellness, nutrition, and guidance for their dog. Often times, pet parents come to me because their dog is going through a behavior or medical problem and they don't know where to start from a holistic at home standpoint. Or, the pet parent just wants the best for their dog from a holistic standpoint but has no clue where to start or what diet to feed. I coach pet parents on nutrition choices, general wellness, supplements that make sense, and anything else I can help with that is specific to their dog. My goal is to be an additional support system for pet parents. How humans have life coaches or nutrition coaches, I am doing that for dogs and their guardians.
You offer aromatherapy services! How did you first get turned on to aromatherapy for dogs?
In my quest to do everything better for my dogs I was led to aromatherapy for animals. I was actually fairly skeptical years ago about aromatherapy but over time saw how people used it effectively on themselves. I wanted to learn more about if this was something that could enhance my dog's lives. Reading books, attending online seminars, spending time researching eventually led me to experiment more with aromatherapy for myself and my dogs. That's when I fell in love with animal aromatherapy and knew this was something I really wanted to be able to do. So I got certified in Level I and am continuing my education as well. I never want to stop learning when it comes to what can benefit my dogs and other dogs.
Making the switch to a natural and holistic diet and lifestyle for your dog seems like a daunting task. What's a good first step for someone interested in making the change?
Be open-minded to learning and what you can uncover is what will surprise you the most! Our dogs are truly our biggest teachers and when you are interested in learning because of them you will be so surprised what you find can enhance their life.
What do you say to people who are skeptical of a holistic approach to dog parenting?
I try to educate the best I can without being confrontational but there will always be a difference of opinion with different people. That is what makes the world go round! I usually tell skeptics that ultimately, you are your dog's caregiver and if you feel like you are being your dog's best advocate in all aspects of their life – health, wellness, physical and mental stimulation, happiness, etc. – then that is good enough for me.
How does a holistic approach help with managing special health or behavioral needs?
As my vet says "we have more tools in the toolbox". Instead of one medicine or one way of approaching a treatment or behavior issue, there are so many more options in a holistic approach. Really, the options can be never ending. For example, herbs alone are an amazing tool medically and behaviorally for dogs. And how many herbs are there? Thousands upon thousands. When you take a holistic approach to dog care you are also taking the entire dog's health and wellness in mind. If there is a behavior issue, that can stem from issues within the body causing behavior agitation and problems. Maybe a key nutrient is missing from that dog's diet that is causing the behavior problems, perhaps the dog has underlying inflammation that is making the dog uncomfortable. There isn't a one-size-fits-all approach to holistic dog care. What I was finding when Mylah was diagnosed with diabetes is that the vets I was seeing were treating her based on an umbrella treatment plan of what traditionally works. This is an ok place to start but Mylah was 10 months old at the time. She had been spayed at 7 months, she was the runt of the litter, she was not properly weaned from her mother… I could go on and on about all the different factors in Mylah's young life that should've been a factor in her treatment and none of that was taken into consideration by these vets. Instead, she was given vaccines even though I was questioning if a dog with juvenile diabetes and not being regulated should get vaccines. The vet put the vaccine in Mylah before she answered my question. Mylah then developed IBS a day later which has over time become severe IBD currently. That is when I was done with my dog becoming a statistic and following a framework for care.
Can you share more about the Mylah Medical Foundation and the help your organization provides to homeless dogs?
Mylah Medical Foundation was created in Mylah's name to help homeless rescue dogs receive appropriate medical care. The foundation sponsors medical needs dogs to get rescued from animal care and control and receive proper treatment. Because of everything I had been through with Mylah, I knew that had I given up on her or not adopted her she would likely be euthanized and not rescued. Diabetics are costly dogs to parent and care for and require a lifestyle change. I wanted to give dogs who were homeless with medical needs the same chance that Mylah received. We fund the care of these dogs and work with rescues to help get additional care with our integrative vets when needed. Mylah Medical Foundation is a tax-deductible non-profit.
One last question: What is your favorite place to take your dogs?
Swimming in Lake Geneva! They could swim for hours. We will see this summer if our newly adopted pup likes to swim too!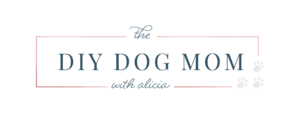 Huge thank you to Alicia for sharing her journey and insights on holistic pet care, as well as her incredible business, The DIY Dog Mom.
Thanks to Aaron Taub, our Avondale and Irving Park walker, for conducting this interview, and Alicia Boemi for her thoughtful answers.