June 12, 2018
Is your phone's photo gallery 90% dog pictures? You're in great company! Do you have 30 pictures with only slight variation of the ultra cute nap pose your dog happened to strike this morning? Still in great company. No shame! We're obsessed with snapping dog pictures here at Rover-Time. Sometimes it's documenting the simple, fun moments we have with our dogs, other times it's taking 30 pictures in a row to get the one shot that perfectly captures their personality. (Again, no shame.) I recently had the pleasure of sitting down with Liz Farina Markel of Tipping Point Photography to chat about her work, her take on dog photography, and the way she's able to capture such rich personality and authenticity in her photos. As a pet parent, Liz approaches her canine subjects with an incredible amount of patience and understanding. That helps her to capture remarkably authentic photos of man's best friend. It was a joy to get a peek behind the lens! 
How did you get your start as a photographer? Did you always see yourself following this career path?
I didn't always see a career in photography for myself but I knew I loved doing it and felt called to it. I got my start as a sports photographer for my high school yearbook. From there, I went to a small liberal arts school for my undergrad and worked part time with my campus photographer. After graduation, I became a go-to for people needing pictures. I would shoot family portraits, weddings, bar mitzvahs, headshots and lots of other kinds of work when I had time in the evening and on weekends. I loved it!
However the feast or famine aspect of professional photography didn't appeal to me. Having a career where I felt like I was making a difference in people's lives, was [and still is!] very important to me, and a consistent paycheck and health insurance was a priority, too. So, I earned my masters in advertising and nonprofit management and worked in marketing for 10 years, primarily with nonprofit organizations. Throughout that time, photography remained a steady side hustle for me. When I started to feel stagnant with my former nonprofit position, I began to consider my work in photography. I asked myself, "What else do I have to offer?" I recognized that I wasn't just a wedding photographer, or just a portrait photographer, or just a headshot photographer, and that photography was a viable way to make a difference in people's lives. And that's what lead me to make Tipping Point Photography my primary professional focus three years ago.
Who makes up Tipping Point Photography? How would you define Tipping Point Photography's style and the services offered?
Tipping Point Photography is me. My husband, who I met when we were both working at a camera store in the early '00s, will join me for weddings and larger events. I primarily offer people-focused photography, which includes family portraits, headshots, and photography for events. My work has a documentary style to it. I'd describe it as unfiltered — not necessarily raw, though some of the emotions in my subjects and my viewers can be raw, but I definitely want it to feel real. I don't like to spend a lot of time editing — not everything is perfect and I don't try to make it that way. That approach is not everyone's cup of tea, which I completely understand. I'm always happy to provide referrals to other photographers who might be a better match for what someone is looking for.
That's something we don't often talk about and articulate out loud when selecting a photographer — the actual experience of the photo shoot or the trust and understanding required between the photographer and the person being photographed — but it's so important. If a potential client doesn't trust my vision of
their reality, then the process and the end result are not going to be satisfactory for the client or for me! I've been very fortunate to have a strong client base that trusts me to work with them year after year for traditional photography needs, but also to document some of their most difficult moments. Just in the last year, I've been called on to photograph funerals, extended families with beloved elder relatives on the verge of hospice care, families preparing to send loved ones off to do battle
with cancer, and parents with a teenage child with only days to live. This is the really important stuff: the times where you want to document the important moments whose finite end is quickly approaching, but you also want to put your phone down and be fully present for your loved ones. They're the moments you don't think to hire a photographer for, but if you have a photographer you trust, that's the person you want in the room to take care of those things.
In addition to personal photography, I offer visual communications consulting to small businesses and nonprofits because I believe photography can help fuel social change. These services are beyond just taking photos for a few hours on a Saturday morning: we strategize about messaging for marketing, fundraising, social media, websites and more, and then build a photography plan that will help us create images that can advance the organization's goals. It's a whole new level of engagement and with my clients, and it's been exceptionally rewarding to work with them this closely and see the results! Some of my most favorite clients have been Girls on the Run-Chicago and Independently Driven, a local, woman-owned business in the fitness space. In addition to the results the photos generate for their organizations, the authenticity in the images we've created is so powerful that I've been moved to tears while I'm taking the photos. I've been privileged to be a part of their mission in that way.
I love that! Thinking about authenticity in photos just gave me a flashback to long, super posed, tantrum filled photo sessions at Sears portrait studio as a kid — how do you capture family portraits that feel natural?
There's nothing wrong with Sears portraits! All of my sessions will start off a few posed pictures where everyone is looking at the camera, but it's important that everyone — particularly children — feel comfortable, and a full hour of posed shots achieves the exact opposite of that. So, when it comes to the traditional portrait studio experience, good luck containing a three year old in 10×10 space! I like to pick an environment that the family will have fun in. Playgrounds are great. Having the children race each other across the lawn or asking the family to read a book together creates magic. I want them to forget that I'm there and to be themselves. When they don't care about the camera, that's when you're able to capture great moments. Instead of directing them into specific poses, I offer direction that will spark energy. When everyone is having fun, the end result is so much more powerful and authentic.
Who's easier to work with: human children or dogs?
It depends! Both seem to like me — dogs always know dog people, you know? They have different challenges, though both are capable of listening but often have selective hearing. You really have to incentivize their listening to get results. It's also important to understand how to work within the parameters kids and dogs provide you. I'll adjust to them, they don't need to adjust to me. Is the dog digging in a hole? I'm going to snap a picture of that, but I'll also figure out how to get their attention for a split second to snap a shot, and then let them go back to digging. Bottom line: if that's what's happening in the moment, that's what we're going to memorialize. My high school experience with sports photography really comes in handy when shooting pets and children. Back then, I was shooting completely on film with a fully manual camera, which required the cultivation of exceptional timing to be able to capture high speed action. It's the
same with children and dogs: it's all about anticipating the shot and physically putting yourself where you need to be in order to be responsive to what's happening.
I get a fair number of families who will ask if they can bring their pets to their shoot. Some people think it's weird to ask. It's not weird! They're part of the family! Sometimes I insist on it, even if it's not part of the family's plan. For example, not too long ago, I held a photo session for a family with a 16 year old dog. She had tons of personality and I made the time to take a few shots of just her. A short time after this session, she passed away and the family had images of that wonderful day to look back on.
Do you have any pets of your own? Do you take a lot of photographs of them?
We adopted our previous dog, Ariel, a hound/Lab mix, from PAWS Chicago. She was my heart dog. She loved children and was just a super easy going dog in general. We adopted her at the age of six and had six great years with her before she passed. I easily have several thousand photos of her, and I treasure every one of them. We're dog people, and I needed a new running buddy, so it wasn't long after her passing that we felt the need to get involved with fostering through Chicago Canine Rescue. This is how we ended up adopting our current dog, Buster. We actually fostered him for 13 months before deciding to make him ours. He's a Australian Cattle Dog and Basenji mix who proved to be a bit of a challenge. He's very smart but very noisy — events like the toaster popping up, the washing machine changing cycles or the shower turning on require barking. But he'll also bark if there's smoke coming from the oven, and I consider the "preemptive canine smoke alarm" feature to be very useful! It came down to learning to understand his behavior, adjusting to meet him on his level, and trying to leverage those smarts into things that are more beneficial than annoying. And being patient. He really is a great dog who has made me more compassionate towards other dogs with less than perfect personalities. He's also exceptionally adorable, and I've taken some great snaps of him smiling and wearing a bowtie. A few friends saw those photos and are now plotting a kidnapping plan so that they can enjoy his cuteness in person instead of just via Instagram.
If you could photograph any person/place/thing what would it be?
I think I would like to go back in time and document the daily lives of my ancestors. My mother is retired and currently filling her time with genealogy research. I'd love to see and understand how my life to today is connected to what went on 200 years ago; where does my genetic connection to passion and creativity come from? I want to see what their personalities are like and have the chance to draw out those personalities in my photos.
Huge thank you to Liz for sharing her story and insights on what makes her style so unique. We love her passion, values, and the vision she's set forth with Tipping Point Photography. If you'd like to work with Liz, be sure to check out Tipping Point Photography's website here!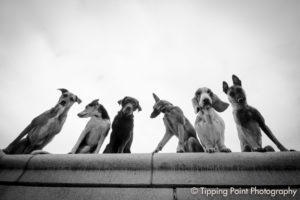 Becky is Rover-Time's Operations Director and has been with our company since June, 2014. She supports the relationships we have with incoming and existing customers. She also oversees new hire onboarding and Rover-Time's success. She loves animals (especially her very own dog, Gretchen), improv, and learning to cook. And now, she also "loves" running.