July 22, 2014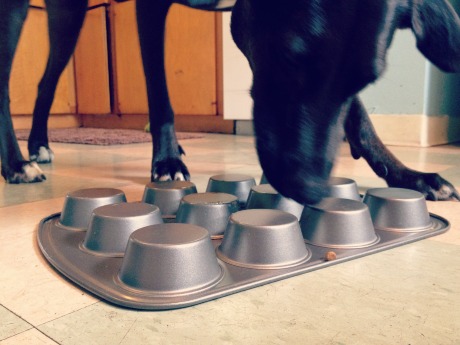 There are so many products out there to help you work your pup's brain and help them eat more slowly – and I might have just about every variety for my two beasts. However, I've been lucky enough to get these second-hand and at a discount. Since I'm not currently in the business of selling pet products, I'm going to share some do-it-yourself secrets to make food puzzles at home – super cheap!
Like most of you, I feed my dogs twice a day. If they wolf it down in 10 seconds, they spend the rest of the day trying to entertain themselves… But if they have to figure out how to get those pieces of kibble and treats, and they spend 10 minutes working on it, I have exhausted, happy dogs. That's especially important for me because my bored dogs are anxious dogs. Plus, slowing down during mealtime is always a good thing. Here are some of my favorite home-made food puzzles:
1. Muffin Tin – So easy!
– Turn a muffin tin upside down and spread kibble between the bumps. Your dog will have to nudge the food around from all different angles. One thing I love about this is that the top of the tin is flat, so they can't just flip it over. This is good for larger dogs, but for smaller pooches try a mini muffin tin.
– Keep the tin upright and divide the kibble up between the cups. Add difficulty by covering each section with a tennis ball or other toy.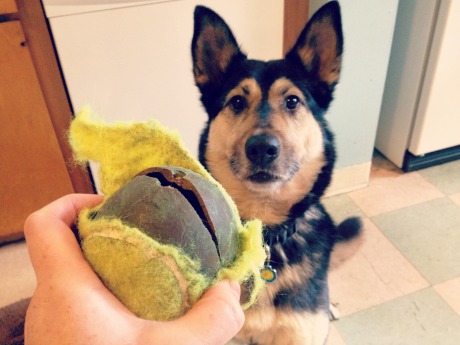 2. Old Tennis Ball
Those worn out old tennis balls can be turned into puzzles. Just cut an X into the ball or cut along the seam to make a flap. Stuff some kibble inside and let them go for it! Just make sure the ball stays large enough that your dog can't swallow it.
3. PVC pipe
For the more rambunctious canines, cut the piping to about 12 inches, drill some random holes (large enough for your kibble), put end pieces on both ends, and you're done! Your pup has to nose it around to get the kibble to fall out.
4. Water bottle, milk jug, or yogurt container
This is great for dogs that don't destroy and consume plastic. Simply cut a few holes in various places in the plastic and fill with kibble. Many dogs just like to crunch plastic bottles and milk jugs too. Easy and recyclable!
5. Boxes
Surf loves to shred cardboard boxes, especially the ones that cereal and snacks come in. He never eats the pieces, so I let him have it and it seems to be a wonderful de-stress activity for him. Simply put kibble in the box and close it. Add difficulty by putting boxes inside boxes (like those nesting dolls), with kibble in between each layer. Another way to make use of your recycling!
6. Towel or blanket
For the laziest of us! Simply spread kibble out under a towel on the floor. Let your dog sniff out and find all the pieces.
Remember that no toy is indestructible so always supervise your dog if you think there's any way they could chew off a piece of any toy and swallow it.
Check out more tips from Julia for more ways to keep your pup busy!
We'd love to learn from YOU!
How do you keep your dog from getting bored on the cheap?
What benefits do you see in your dog when they're asked to work for their food?
When's your favorite time of the day to use a puzzle toy with your dog?
Are you interested in dog walking services and live in Chicago?
Contact us today at support@rover-time.com or visit our Home Page for more information! 
---
WANT more pet health information?
Check out these other blogs by rover-time!
The Best Type of Bowl for Your Dog
The Health Benefits of Owning a Dog
5 Reasons You Should Play With Your Dog
4 Reasons You Should Spay Your Pet
Rover-Time's Tips, Tricks, and Gear for Better Walks!
Lynda manages our dog walking team at Rover-Time. Her career focus is on dog training and behavior and her approach is based on science, positive reinforcement, and humane methods to improve relationships between humans and their pets. She's also an assistant trainer at Animal Sense in the evenings and co-parents her own cat and two dogs, Surf and Ryan, with her other half Mary.