July 29, 2014
Full disclosure: I'm sitting on the couch right now with my dog, Surf. He's resting his head on my arm, sound asleep. Should I feel guilty that I let him up on the couch and bed? Should I change this behavior?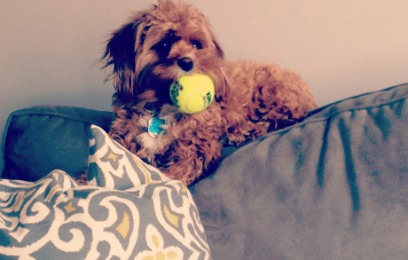 I should also disclose that my other pup, Ryan, is lying on a dog bed on the floor. She's not allowed on the furniture. Is there something "unfair" about this?
As a trainer, one of my top priorities is helping people live with their pets the way they'd like to. I don't go into any situation with a one-size-fits-all idea of how all dogs should behave. It's just not realistic. Every dog, and every person, is an individual. I'd love to have both my dogs snuggling up with me on the couch – and that's my personal preference – but because they're each individuals, there are good reasons they have different rules.
Ryan is a very loyal and sweet shepherd mix, but she does have a strong tendency to resource-guard. She will guard her food, dog beds, even people. She has definitely shown vast improvement in the past 2-3 years that she's been in our lives. However, it would be a very different situation if she began to guard the couch from, say, me. For everyone's sake, we just avoid giving her the opportunity to do so. She seems perfectly content with this. Less to "control" = less to worry about. Since we've been consistent with her, she rarely (if ever) even tries to get up on the couch anymore.
Surf is what I like to call a "soft" dog. He has pretty good manners, lets the cat be in charge, and is very sensitive overall. Most of the time, he will stand or sit and "ask" to be invited up on the furniture. He doesn't guard his resources (food, people, places, toys, etc.) and he gets down if he's told to. That's not to say he doesn't have his issues, but none that would make me worry about him being on the furniture. That being said, he does have access to dog beds at all times.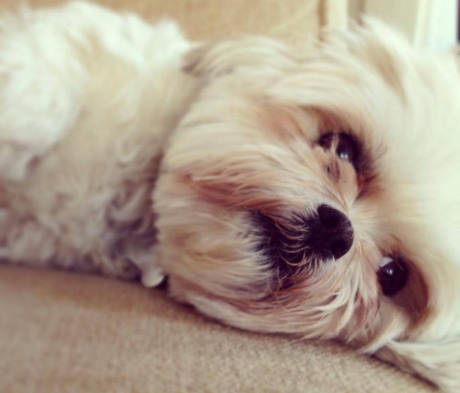 Pets like to be on furniture for one simple reason: it's comfortable. It's the same reason we want to be there! For some dogs, the added bonus is affection from their beloved human, which sweetens the deal.
So should you let your dogs on your furniture? In my opinion, the answer should be what's best for you and your dog. If you're not sure, consult a reputable trainer or behaviorist.
Here are a few guidelines:
Be clear and consistent so your dog knows what's expected. Confusion can lead to anxiety. Is your dog only allowed up when invited? Try asking for a "sit" before inviting them up as a sort of "please and thank you." Is your dog never allowed up? Make sure everyone is enforcing the same rules.
It's okay to have different rules for different dogs, as I do in my house, as long as each dog has clear, consistent expectations.
Teach your dog an "off" cue for those times when you want the couch to yourself – or if your pup is a giant bed-hog. Start by luring your dog off with a treat, say "off," and reward when they're off. (If you use the word "down" for the command lay down, be sure not to use it when you are asking for them to get off the furniture.) Periodically reward them for relaxing in their own spot too!
Always provide your dog with their own spot – a dog bed or a crate – where they can go for some alone time. Dogs need space sometimes and may not always want to cuddle with you – nothing personal!
If your dog isn't allowed on the furniture, remove the opportunity to do it when you're not home. No amount of training will remove the temptation to break the rules when no one's around! Keep them in a separate room, crated, or place a baby gate on the couch or bed – easy!
What rules do you have for furniture and pets? If you have multiple dogs, does each dog get equal treatment?
Are you interested in dog walking services and live in Chicago?
Contact us today at support@rover-time.com or visit our Home Page for more information! 
---
WANT more pet health information?
Check out these other blogs by rover-time!
The Best Type of Bowl for Your Dog
The Health Benefits of Owning a Dog
5 Reasons You Should Play With Your Dog
4 Reasons You Should Spay Your Pet
Rover-Time's Tips, Tricks, and Gear for Better Walks!
Lynda manages our dog walking team at Rover-Time. Her career focus is on dog training and behavior and her approach is based on science, positive reinforcement, and humane methods to improve relationships between humans and their pets. She's also an assistant trainer at Animal Sense in the evenings and co-parents her own cat and two dogs, Surf and Ryan, with her other half Mary.