August 24, 2020
Meet the dog of the week: Stevie Nicks
Stevie Nicks' walker Nicole has the inside scoop about Stevie Nicks.
Learn all about the dog of the week, Stevie Nicks. Stevie Nicks is our resident trick expert and all-around gorgeous Husky mix. She's always down for a training session in the park with her buddy Nicole!
Dog's Name: Stevie Nicks
Owner Name: Dan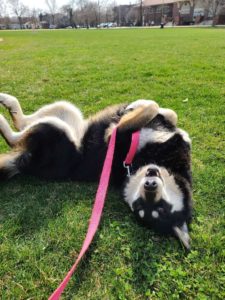 Breed: Husky Mix
Birthday: January 1st, 2013
What are Stevie's favorite foods? All the treats she gets during training and any street treats she can find.
What are Stevie's favorite tricks to do for a treat? Her current favorite is "play dead".
What is Stevie's idea of a perfect day? Her perfect day would be laying in her comfy bed and getting fed treats all day, along with some pets.
Theme Song: Back in Black – AC/DC.
Favorite Activity: Barking at the Amazon, FedEx, and UPS delivery drivers.
Nicknames: Steve-o, Steve-ster.
What challenges did you encounter with Stevie? She was a big puller! Whenever she picks a direction she wants to go she gets really excited and she'll pull your arm off to get there. After some training though, if she starts to pull I tell her "easy Stevie" and she'll start to slow down.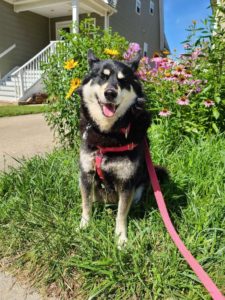 What is your favorite memory of Stevie? When I hadn't seen her in a while and she actually got excited to see me! Tail wagging like crazy, nudging Honey (her dog companion) out of the way to sit in front of me and get pets.
If Stevie had a catch-phrase, what would it be? "What are you looking at?"
If Stevie was a famous movie character, who would it be? Letty Ortiz from The Fast and The Furious.
Thanks for reading about our pal Stevie nicks!
We are so glad you got to meet our dog of the week, Stevie Nicks. Or as she would say "harooooooo!!!!" Our walkers have put together some fun profiles for their doggy clients, keep your eyes peeled for more dogs of the week!