November 30, 2020
Meet the dog of the week: Riley
Riley's buddy Chloe has the inside scoop on Riley!
Meet the dog of the week: Riley! Riley is a handsome gentleman who loves treat, cuddles, and not getting his photo taken. Also, Riley is always on the alert for what is going on in the neighborhood!
Dog's Name: Riley
Owner's Name: David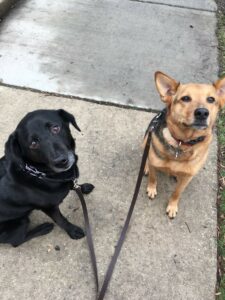 Breed: Lab/Sheppard
Birthday: February 12th, 2013
What are Riley's favorite foods? Milkbone Treats tried and true
What are Riley's favorite tricks to do for a treat? Riley gets a treat after every walk…so I would say walking, watching out for his sister, sit, and heel. He also loves getting rewarded with ear rubs and butt scratches!
What is Riley's idea of a perfect day? It would start with snuggles in bed with his people, followed by playtime with his sister Maddie. Then going outside to sniff EVERYTHING, and as a bonus, something with a siren would pass by on every walk so that he could howl to his heart's content. 
Theme Song: Good Old Fashioned Lover Boy by Queen
Favorite Activity: Getting just as much or more love and affection than his sister, he's a very jealous boy. Also excitedly barking to make sure you know how much he loves you and wants your affection.
Nicknames: Ry-guy, Riley-boo, Ry-Ry
What challenges did you encounter with Riley? Riley is very vocal when I arrive and when he feels that he's not getting enough attention. To counter this, I ask him to sit before getting any affection on our walks, so that he is not getting rewarded for barking. Now he'll walk right by my side and as soon as I look over sit down wanting ear rubs. He also gets pretty nervous around loud noises, but his sister Maddie protects him from them. In turn, Riley helps me protect Maddie, by subtly letting me know when he sees a dog ahead of us before Maddie does.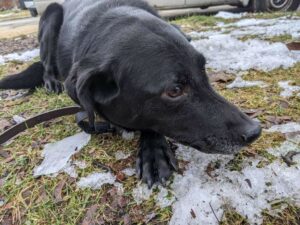 What is your favorite memory of Riley Riley is one of the most affectionate pups that I walk! I love how much he wants to snuggle up to me. It's also a blast trying to get his photo because he is very camera shy. Every time I get a decent photo of him, it's a great day! 
If Riley had a catch-phrase, what would it be? "LOVE ME PLEASE! thank you" 
If Riley was a famous movie character, who would it be?  R2-D2 – sticking with the Star Wars theme (throwback to his sister Maddie being Chewbacca); Riley is playful, intelligent, affectionate, and knows just how to make the right beeps and boops to get your attention. 
Thanks for reading about our handsome pal Riley
We are so glad you got to meet our dog of the week, Riley. He says, "no paparazzi please". Our walkers have put together some fun profiles for their doggy clients, keep your eyes peeled for more dogs of the week!