November 9, 2020
Meet the dog of the week: Bagels
Bagels' BFF Nicole has the 411 on Bagels
Meet the dog of the week: Bagels. Bagels loves slow strolls, being in charge, belly-rubs, and trying to sniff for forbidden street treats. Bagels is a lady who knows her own mind, she knows where to go and when it's time to get treats.
Dog's Name: Bagels
Owner Name: Stephanie & Marc
Breed: Beagle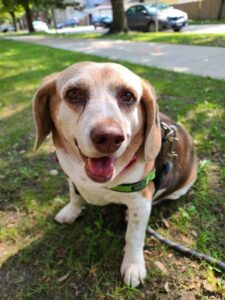 Birthday: November 4th, 2009
What are the dogs favorite foods? Street snacks, greenies, and bones
What are the dog's favorite tricks to do for a treat? Sit and try not to bite your hand when jumping for the treat you're holding
What is the dog's idea of a perfect day? Laying with her humans, getting belly rubs, and fed treats for her amazing existence
Theme Song: "Dancing Queen" – ABBA
Favorite Activity: Getting belly rubs or looking for street snacks she can run away with
Nicknames: Beagle girl, Queen, her highness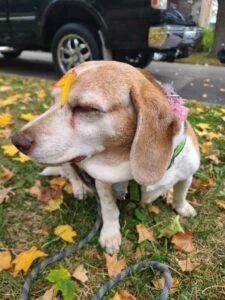 What challenges did you encounter with this dog? I had to learn that Bagels walks me, I cannot tell her where to go because she will just stop walking and refuse to move. She always chooses our route and that's when she's happiest
What is your favorite memory of this dog? When she gets back home from her walks she loses her mind and zooms all around
If the dog had a catch-phrase, what would it be? "Excuse me, peasant, follow me"
If the dog was a famous movie character, who would it be? Miranda Priestly from "The Devil Wears Prada"
Thanks for reading about our Princess bagels!
We are so glad you got to meet our dog of the week, Bagles. She says, "Exsqueeze me, I've got treats to sniff out." Our walkers have put together some fun profiles for their doggy clients, keep your eyes peeled for more dogs of the week!