October 19, 2020
Meet the dog of the week: Maddie
Maddie's BFF Chloe has the inside scoop about Ms. Maddie
Learn all about the dog of the week, Maddie. Maddie loves her best human friends and getting treats for being a very good girl.
Dog's Name: Maddie
Owner's Name: David
Breed: Lab/Shepard Mix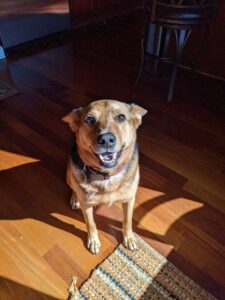 Birthday: February, 12th 2013
What's Maddie's favorite treat? 
Maddie loves her tried and true Milkbone biscuits.
What are Maddie's favorite tricks to do for treats?
Maddie gets treats after every walk when she practices sit and leave it. She is more about playtime rather than trick time. She would be happy to wrestle with her brother Riley or play tug and fetch all day.
What is Maddie's idea of a perfect day?
Miss Maddie's perfect day would involve being able to run around outside with no distractions. Just Maddie, her brother Riley, and an open field filled with rabbits, birds, and squirrels. No pesky construction workers or other dogs. Oh! And don't forget having her favorite humans there to give her the occasional belly rub when she needs a break from wrestling.
Theme Song: Killer Queen by Queen
Favorite Activity: Wrestling with her brother and getting belly rubs from her humans. Oh. And chasing birds.
Nicknames: Maddie-Roo, Madeleine, Madz, Madz-amillion
What challenges did you encounter with this dog? 
Maddie is not a big fan of other dogs, runners, construction workers, bikes…most humans or beasties that she does not already know. So, we do our best to avoid others while out on our walks. But when you meet her at home base and earn her love, you have a strong guardian and adventurous companion for life!
What is your favorite memory of Maddie? 
Honestly, Maddie makes every walk a blast. I love seeing her get ready to wrestle with her brother. She always gives me a mischievous look and waits for my nod before getting amped up to play. Also, any time she asks for pets on a walk is a blessing because she usually is nose to the ground outside of playtime.
If Maddie had a catch-phrase, what would it be? "Playtime is all the time and all time is playtime."
If Maddie was a famous movie character, who would it be? Chewbacca – loyal to her people, a strong protector with an even stronger voice, also extremely furry and could use a good brushing from time to time
Thanks for reading about our gal maddie!
We are so glad you got to meet our dog of the week, Maddie. She would happily take a treat now, please. Our walkers have put together some fun profiles for their doggy clients, keep your eyes peeled for more dogs of the week!