February 15, 2021
Meet the dog of the week: Boba
Get all the deets about Boba from her pal Nicole
Meet the dog of the week: Boba. She's always down for a car ride with her bestie, Nicole!
Dog's Name: Boba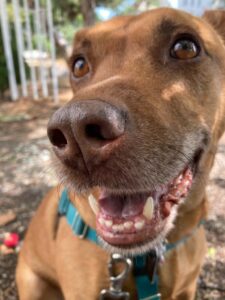 Owner's Name: Terri and Steven
Breed: Pitbull/German Shepherd/Rottweiler/Collie/Chow/Vizsla/Boxer mix
Birthday: July 2nd, 2017
What are Boba's favorite foods?  Treats and any street snacks she can steal from pigeons. 
What are Boba's favorite tricks to do for a treat? She loves sitting and posing for pictures. 
What is Boba's idea of a perfect day? Boba's perfect day would be going by her favorite house around the block who leaves snacks out for the birds (but Miss Boba thinks they're especially for her), soaking up some sun, and getting all the belly rubs! 
Theme Song: "I Got a Feeling" – Black Eyed Peas
Favorite Activity: Snacking, playing with her toys, hunting squirrels
Nicknames: Baby, Bobey, Princess, Angel
What challenges did you encounter with Boba? Trying to avoid happy bites when offering her a treat, now she's so good and gentle when taking treats. 
What is your favorite memory of Boba? When I first started walking her and all she wanted from me once I took her back home (pre-COVID) was belly rubs and cuddles. 
If Boba had a catch-phrase, what would it be? "Boba needs to chase those birds, they're eating my snacks!"
If Boba was a famous movie character, who would it be? King Julian – Madagascar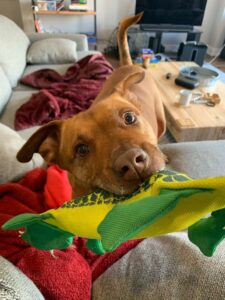 Thanks for reading about the amazing boba!
We are so glad you got to meet our dog of the week, Boba. She asks that you kindly share the turkey nom noms with her all the time!  Also, keep your eyes peeled for more dogs of the week!