February 8, 2021
Meet the Cat of the month: ram
Learn all about cuddly cat RAM from his buddy Chloe
Meet the cat of the month: RAM. This little dude is ready for all the cuddles you can give!
Cat Name: RAM
Owner's Name: Bethany
Breed: Tan Tabby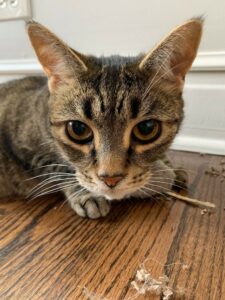 Birthday: July 15, 2008
What are RAM's favorite foods?
RAM LOVES his dry food. Sometimes a little too much, he would gobble the whole bowl up in about 5 minutes if you let him.
What toy does RAM like to play with?
RAM loves to sit in boxes for attention. He's not as playful as his brother Binny, but he will occasionally join in when we play with the feather toy.
How sassy is RAM on a scale of 1-10?
A two, maybe a three if he's really hungry. RAM is a super chill boyo who just wants all the loves and scratches. Also, for you to admire his beautiful big eyes.
What is RAM's idea of a perfect day?
RAM would love to eat his way through a maze of dry food without getting sick, and just to snuggle and get endless pets from his humans as a reward for a job well done.
What challenges did you encounter with RAM?
RAM loves his dry food. He tends to eat it very quickly, which often makes him sick, so I quickly learned to put out wet food first and keep an eye on him while he was eating. Luckily he was very respectful of me moving him away from the bowl so he would slow down. Like I said earlier, he's a chill dude.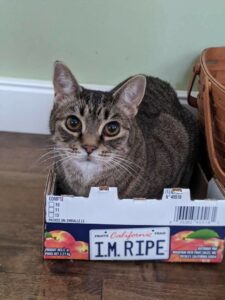 When the cat is meowing at you, what do you think they are saying?
"Why did you stop petting me? Where is my food? Why don't you love me?"
What is your favorite memory of RAM? RAM got into the habit of sitting in a box in the kitchen while I prepared the food, the box said "I'm Ripe" on it, and I got a kick out of it every time.
Nicknames: RAM… RAM-ekin? Baa-RAM-ewe
Theme Song: "I Wanna Be Sedated" by Ramones – I just imagine RAM being a classic punk guy
If RAM had a catch-phrase, what would it be? "Look into my eyes and chill"
If RAM was a famous movie character, who would it be? For his eyes only he would be Mort from Madagascar and for personality, he would be The Dude from The Big Lebowski.
Thanks for reading about our pal ram
We are so glad you got to meet our cat of the month, RAM, we think he is purrrr-fect. Last but not least, keep your eyes peeled for more dogs of the week!