February 22, 2021
Meet the dog of the week: Milly
Find out the inside scoop about Milly from her #1 fan, Shaun
Meet the dog of the week: Milly. Milly loves to give snuggles to her friends and to chase any squirrel she finds.
Dog's Name: Milly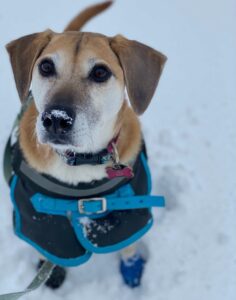 Owner's Name: Kirk Fox & Jodi Goode
Breed: Lab/Hound
Birthday: April 18, 2013
What are Milly's favorite foods? Any type of treats but she goes crazy for turkey.
What are Milly's favorite tricks to do for a treat? Sit, shake hands, give cute puppy dog eyes.
What is Milly's idea of a perfect day? Running around, chasing after all the furry creatures, and then coming home to unlimited snacks.
Theme Song: "Sweet Child O' Mine"– Guns and Roses
Favorite Activity: Chasing squirrels and mountain climbing
Nicknames: Mill Mill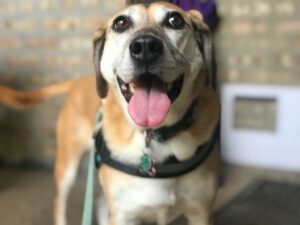 What challenges did you encounter with Milly? She tends to pull and tries to catch any creatures she can, dragging me behind her. I countered this by trying to spot the animals first and distract her away from them.
What is your favorite memory of Milly? Definitely in the fall when we were both playing in the leaves.
If Milly had a catch-phrase, what would it be? "You ready for the hunt?"
If Milly was a famous movie character, who would it be? Amelia Earhart– but from the movie Night at the Museum.
Thanks for reading about our sweet girl Milly
We are so glad you got to meet our dog of the week, Milly. She says "Woof", which means that it's time to go chase some squirrels. Last but not least, keep your eyes peeled for more dogs of the week!