December 14, 2020
Meet the dog of the week: Annie
Annie's favorite walking buddy Chloe tells us all about sweet Annie!
Meet the dog of the week: Annie! Our Annie loves to sniff all over her neighborhood while trying to find the best smells. Also, Annie and her sister Oakley are a dynamic duo, they will melt the hearts of anyone passing by.
Dog's Name: Annie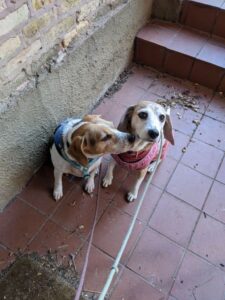 Owner Name: Johanna
Breed: Beagle mix
Birthday: March 13, 2009
What are Annie's favorite foods? She will eat every treat possible, including the occasional poop snack if you're not fast enough. 
What are Annie's favorite tricks to do for a treat? Annie will immediately sit if you have a treat in hand. Also, she does an adorable spin! 
What is Annie's idea of a perfect day? Hmmm, clear sunshine all day, just cool and crisp enough to wear her signature winter sweater. With a few hours worth of belly rubs from her favorite humans. Followed by sniffing through every inch of the neighborhood looking for her favorite sneaky treats. With the freedom to prance as she pleases – she is very skilled when it comes to prancing.
Theme Song: Just a Girl by No Doubt
Favorite Activity: Belly rubs and more belly rubs, and giving you some serious side-eye if you don't give her belly rubs. 
Nicknames Annie-Annie-Annie! Also, Annie's truest nickname is her combined name with her sister, together they are Annie Oakley, and it's the best.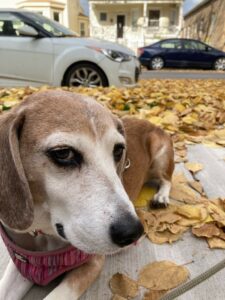 What challenges did you encounter with Annie?  Annie truly does love eating poop, as many dogs do. So I do my best to keep my eyes peeled when we are out, but every once in a while she'll find something that seems to have appeared out of thin air. But she makes up for it by being absolutely adorable in every other way and having the softest ears in the world. 
What is your favorite memory of Annie? Annie literally prances. She'll be walking and then suddenly get a burst of energy and just turns into a little deer and shoots forward. And it is so cute and every time she does it, I just burst out laughing. 
Also, Annie has natural eye-liner and takes the best photos. And she is a true queen, always giving the sassiest/angstiest looks possible. 
If the dog had a catch-phrase, what would it be? "Are you really not going to give me belly rubs?"
If the dog was a famous movie character, who would it be?  I'm not sure if this counts, but Annie always makes me think of the Velveteen Rabbit because of her velveteen ears.
Thanks for reading about our favorite lady annie
We are so glad you got to meet our dog of the week, Annie. Also, Annie says, "Is that treat for me?" Our walkers have put together some fun profiles for their doggy clients, keep your eyes peeled for more dogs of the week!