April 29, 2021
Camping with your Dog.
Camping with your dog is certainly on many people's minds now that summer is here. But before you pack up Fido in the car and hit the woodland trails, there are a few steps you should take to ensure everyone has a nice time in nature.
Plan Ahead 
If this is your first time or 50th time going camping with your dog, there are a few things you need to do before you head out the door.
What type of energy level is your dog?

If your dog likes to lounge and sleep all day, a 5-hour hike is probably not a good idea. If your dog is a high-energy dog but hasn't had long excursions the past few weeks, start building up their stamina by taking longer and longer walks before you go camping so they are used to more active outside time. 

See your groomer.

While it may seem counterproductive, a hair and nail trim will help keep your dog cleaner and avoid foot injuries. Their nails won't get caught or damaged and shorter fur is easier to brush clean than long, unkempt fur. 

See your vet. Your pet should be up to date on flea and tick prevention and all their shots. Some vets may recommend your pet be vaccinated against Lyme disease, which is transferred by deer ticks. If they're not already, this is a good time to have your dog microchipped and registered.
Scope out the area. Know the rules of the camp or park you're going to visit before you arrive. Most have leash and barking ordinances. The National Park Service and other travel sites offer helpful maps with information about dog-friendly locations. 
Plan for the worst, hope for the best.

If you'll be far from home, make sure to locate the nearest animal hospital or emergency vet before you go. The last thing you'll want is to need a doctor and not know where to find one. 
Pack Accordingly
If you like to hike and camp, you're probably into different types of gear. When you're packing your backpack, don't forget your dog's gear! 
Recommended Doggie Field Gear
Collapsible food and water bowls.

For short-haired breeds, a coat or sweater for chilly nights. 

Life vests are good for dogs too if you'll be in the water.

Walking harness – in good condition and properly fitted if you'll be using one.

Medkit, one that includes materials specifically for dogs. You can find them on Amazon for cheap.

A current photo of your dog. If they get loose and you enlist the help of rangers or strangers, a current photo will help them identify your dog. 

Brush or grooming device to remove burrs or other debris. 
Tick-removing tool if you are uncomfortable using your hands. 

Pet-friendly wipes – they're not just for paws! Dog fur can transfer poison ivy to you after they brush against it. 

Booties or paw wax. If your dog is unaccustomed to walking long distances on the ground or rocky terrain, a little protection will help its paws stay in good condition. 
Sleeping Plans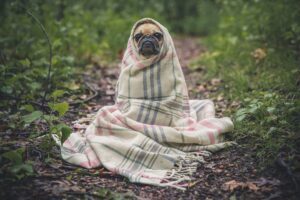 If you will be using a tent, be mindful of the floor. Dog nails can easily tear through many lightweight fabrics. Place towels, sheets, or blankets down first to avoid damage to your tent. 




Keep sleeping arrangements similar to what you do at home. If they use a dog bed, bring along something to act as their own special spot in the tent.

A small carabiner can be used to keep the tent flap zipped shut. Dog escapes during the night are common if the tent is not secured and they are off-leash. 
Be Mindful while camping with your dog
When you're out in the woods, be mindful and on the lookout. Same as the city, there are many hazardous things in the wilderness that you will run into while camping with your dog.  
Temperature – is it too hot or cold for your dog outside? 

Distance – are you going too far for your dog? 

HYDRATION – your dog will need more fluids as they exercise, especially if it's warm outside.

Do not leave dog food outside, unattended. It encourages wildlife to enter your camp. 

Monitor what they eat or drink – there are many toxic plants that grow during the year and stagnant water can contain harmful bacteria. 

Watch for wildlife – depending on where you are this can include skunks, porcupines, coyotes, wolves, mountain lions, bears, etc. If you're unsure what is local to your area, speak with the ranger service or contact your local park service for advice. 

Check for ticks daily. This is good advice for both you and your dog.

DO NOT SPRAY YOUR DOG WITH INSECT REPELLENT. Deet, the main component in many insect repellents is extremely toxic for your dog. Always wash the repellent off your hands before your dog licks them or it is transferred to their fur. Speak with your vet about dog-friendly insect-repelling options.

Never leave your dog unattended, even on a line or rope. 

Always pick up and properly dispose of their poop. Dog poop contributes to soil and water contamination. Remember, leave behind only footprints!   
Do you have any favorite places to take your dog camping? Share them in the comments below! 
Are you interested in dog walking services and live in Chicago?
Contact us today at support@rover-time.com or visit our Home Page for more information! 
---
Interested in more pet information?
Check out these other blogs by rover-time!
The Best Type of Bowl for Your Dog
5 Reasons You Should Play With Your Dog
4 Reasons You Should Spay Your Pet
Brock Casper is the Southwest Region Team Manager for Rover-Time and has been part of the RT team for over two years. He lives in Cleveland with his partner, Laurel, dog Loki, and cat Coltrane.
This post was inspired by an article written by former Rover-Time employee, Kim, and her love for camping with her dog River. Click HERE to read the original!