April 14, 2021
Best Tools to Use for Grooming Your Dog!
Spring is upon us, which means it is also time for spring cleaning. If you own a dog, you are bound to find dog fur everywhere. Rover-Time has recommendations for the best tools to use for grooming your dog! Rover-Time is also offering to help de-shed your dog for you – contact us at support@rover-time.com to find out more!
FURminator Undercoat Deshedding Tool – Helps to remove excessive hair
Works for long or short-haired dogs

Can reduce shedding by 90%

Easy to use! 

The FURejector button releases hair making clean-up a breeze
Mr. Peanut's Pet Grooming Glove Brush – Need a hand to remove the fur?
Super easy to use

Washable 

Lifetime warranty 

Good for long or short-haired dogs

The company donates a percentage of its proceeds to animal welfare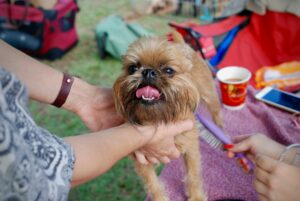 Bamboo Groom Palm-Held Brush for Pets – Got a scared pup? Try this gentle brush. 
Gentle, your pet will think they are being petted

Good for long or short-haired dogs

Perfect size for easy storage
Furbliss Dog Brush – Perfect for bathtime grooming! 
Great for shorthaired dogs

Can be used in the bath

Easy to clean

Gives the dog a little massage while grooming
Hertzko Self Cleaning Slicker Brush – You had me at "self-cleaning"
Detangles knots and fur clumps

Works on cats and dogs

Super comfortable for pets while working out knots

Self-cleaning
Evercare – Lint Roller – Because no matter what, there will always be dog hair on our clothes. 
Comfy handle and reusable outer cover. 

Works on a variety of surfaces

Works like a charm to catch lint/fur
---
Looking for more tips and tricks for your pet?
Check out some of our other blog posts
Tips, Tricks, and Gear for Better Walks! 
Zoe Sjogerman is the North-East manager for Rover-Time and has been part of the RT team for four years. When she isn't walking dogs she is the executive director of Avalanche Theatre and an avid book reader. She lives on the north-side of Chicago with her husband and new dog George Bailey.