May 3, 2021
Meet the dog of the week: Rory
Nicole has all the info on her walking pal, Rory!
Meet the dog of the week: Rory! She's always ready for a speedy walk around the neighborhood followed by a Greenie!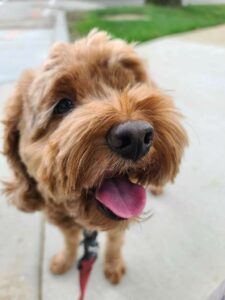 Dog's Name: Rory
Owners' Names: Evan and Kate
Breed: Cockapoo
Birthday: December 20th, 2012
What are Rory's favorite foods?  She loves, loves, loves greenies, and always patiently waits for one after her walks.
What are Rory's favorite tricks to do for a treat? She happily sits and poses for the camera. She's very photogenic. 
What is Rory's idea of a perfect day? Rory's perfect day would be laying on the couch and getting tons of belly rubs and treats!
Theme Song: "Don't Stop Me Now" – Queen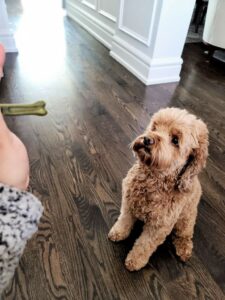 Favorite Activity: Barking at other pups and strangers on her walks. 
Nicknames: Zoomy baby, Princess 
What challenges did you encounter with Rory? Rory was very wary of me when I first started walking her but now, she's super barky when she sees me, and zooms towards me for a few scratches. 
What is your favorite memory of Rory? Every time we come back from a walk, she will patiently wait for me to take off her gear. Then she turns towards me and waits for her greenie. It's so cute!
If Rory had a catch-phrase, what would it be? "More Greenies, please!"
If Rory was a famous movie character, who would it be? Lightning McQueen – Cars franchise
Thanks for reading about wonderful Rory!
We're so glad you got to meet our dog of the week, Rory. This little floofball is ready to go on a walk when you are!
Make sure to keep your eyes out for our other Dogs of the Week so you can meet other cute and wonderful dogs like Rory! We post new dogs every Monday morning.