March 17, 2021
Meet the dog of the week: Lucky
Here is the inside scoop about Lucky from his best friend, Chloe
Meet the dog of the week: Lucky. He loves to greet friends with a hug at the door, also he loves to play keep-away!
Dog's Name: Lucky
Owner's Name: Jennifer
Breed: Boxer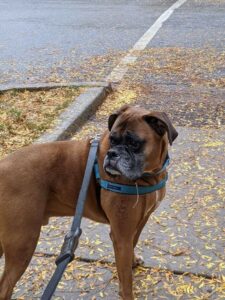 Birthday: April 12, 2014
What are Lucky's favorite foods? Lucky has some peanut butter-flavored treats that he LOVES to get after walks.
What are Lucky's favorite tricks to do for a treat? He's got a solid sit-down, but mostly we focus on walking and wiping his paws outside of that.
What is Lucky's idea of a perfect day? Keep-away, butt scratches, and snuggles and loves with his favorite humans in an endless loop. ALSO being sure he gets more attention than Zoey the kitten.
Theme Song: "You Make My Dreams (Come True)" by Daryl Hall and John Oates – a happy-go-lucky boyo whose dream is to get love from all his humans, he is a love bug
Favorite Activity: Lucky loves playing keep-away and sniffing, so he could easily stop and sniff a spot for a solid 5 minutes if allowed.
Nicknames: Luck-master, Luck, Lucky-boy
What challenges did you encounter with Lucky? Lucky is a pretty laid-back dog. He's not a huge fan of other dogs that are the same size or larger than him though, so we tend to avoid most dogs while we're out unless they are small.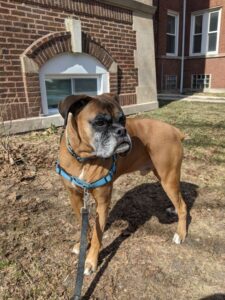 What is your favorite memory of Lucky? My first dog was a boxer, so Lucky always reminds me of him. They are a quirky, lovey, stubborn breed. I would say my favorite time would be the way Lucky greets me every day, he always jumps up to give me a gentle hug and get much-loved shoulder and ear scritches.
If Lucky had a catch-phrase, what would it be? "OH MY GOODNESS. I love you."
If Lucky was a famous movie character, who would it be? Tom Hansen – (500) Days of Summer. Not the most famous movie character, but the quintessential indie love-sick boyo 
Thanks for reading about sweet guy lucky!
We are so glad you got to meet our dog of the week, Lucky, now he would like to give you a hug and a kiss.
Be sure to check out our other dog of the week posts!