March 22, 2021
Meet the dog of the week: Tucker
Here's all the inside info about Tucker from his pal, Nicole
Meet the dog of the week: Tucker. He loves all the snacks he can get from his buddy, Nicole!
Dog's Name: Tucker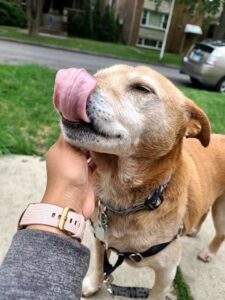 Owner's Name: Maggie
Breed: Corgi-Chow Mix
Birthday: September 26th, 2010
What are Tucker's favorite foods?  All the treats he can get and blueberries
What are Tucker's favorite tricks to do for a treat? He loves sitting, giving me his paw, or even rolling over on his side. 
What is Tucker's idea of a perfect day? Tucker's favorite day is being home with his family, getting all the cuddles, and snacking on some blueberries.
Theme Song: "Home" – Phillip Phillips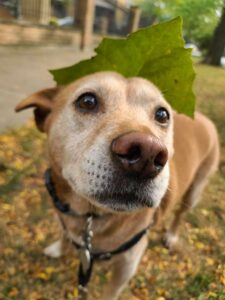 Favorite Activity: Soaking up some sun, getting tons of belly rubs.
Nicknames: Sweet boy, squish face, Tuk-tuk
What challenges did you encounter with Tucker? Making sure he was always comfortable with me putting on and taking off his harness. He does great with treats being the biggest factor. 
What is your favorite memory of Tucker? One time after taking off all his walking gear, he walked away from me a little way and then came back to me, sat at my feet, and looked up at me, hoping for some scratches (of course he got tons!!!).
If Tucker had a catch-phrase, what would it be? "Got any blueberries?"
If Tucker was a famous movie character, who would it be? Pooh – Winnie the Pooh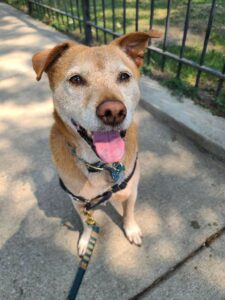 Thanks for reading about Cute Mr. Tucker!
We are so glad you got to meet our dog of the week, Tucker. He asks that you kindly get on with giving him all the snuggles you possibly can!
His sister, Marlowe, is also a dog of the week! Be sure to check out the other half of this dynamic duo!