January 25, 2021
Meet the dog of the week: Reggie
Reggie's best buddy Chloe has all the info about Reggie
Meet the dog of the week: Reggie. Reggie loves to cuddle and snuggle!
Dog's Name: Reggie
Owner's Name: Tessa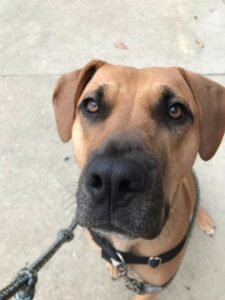 Breed: Mutt (Rhodesian Ridgeback and others)
Birthday: May 15, 2017
What are Reggie's favorite foods? Reggie LOVES getting a peanut butter or yogurt filled Kong after his walk. Although he would also be happy to help you with any and all leftovers, or the occasional street pizza.
What are Reggie's favorite tricks to do for a treat? Reg does a fabulous sit and lay. Though truth be told, we spend most of our time playing and not doing tricks.
What is Reggie's idea of a perfect day? An entire street pizza to himself for breakfast, endless snuggles and fetch time. Also, playing in the backyard with his best friends/neighbor golden retrievers who have just as much energy as he does. Followed by some nice rice to soothe his inevitably upset tum. And more snuggles with his humans.
Theme Song: It's hard for me to pin down a theme song for Reggie. I'm going with "Ob-La-Di, Ob-La-Da", by The Beatles because Reg is a happy go lucky pup that deserves a happy go lucky song.
Favorite Activity: Playing with his besties, both human and dog!
Nicknames: Reg for short, Reginald for extra length.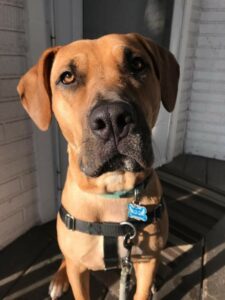 What challenges did you encounter with Reggie? Reggie does enjoy picking snacks up off the ground, he also is a very strong boy and used to pull quite a bit. So I've had to train my eyes to spot even the smallest possible street snacks and we've worked on slowing down/heel. However, since he's been using a gentle leader his pulling is little to none and only comes out with the occasional squirrel.
What is your favorite memory of Reggie? The way Reggie greets me is the best! He comes running and immediately jumps up to give me a hug. He is always so excited and makes me laugh because of how eager he is, I just have to make sure that I don't have anything in my hands because it's likely to be dropped or knocked down.
If Reggie had a catch-phrase, what would it be? "We have three options: we can play, we can snuggle, or we can play."
If Reggie was a famous movie character, who would it be? Reggie is Scooby-Doo. You cannot convince me otherwise. He may not be a Great Dane, but he would be the best Scooby-Doo. Also, with his affinity for snacks, it is perfect.
Thanks for reading about our good pal Reggie
We are so glad you got to meet our dog of the week, Reggie, he is ready for his Scooby snack!  Keep your eyes peeled for more dogs of the week!