December 21, 2020
Meet the dog of the week: Pony
Pony's compadre Shaun wants to tell us everything about Pony
Meet the dog of the week: Pony! Pony is proof that you can be the whole package, he has looks AND smarts. Plus, he is a total cuddle-dog.
Dog's Name: Pony
Owner's Names Alejandro and Doug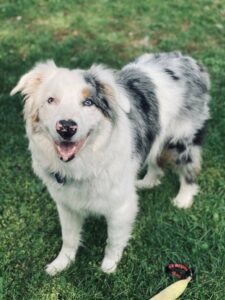 Breed: Australian Shepherd
Birthday: June 15, 2013
What are Pony's favorite foods? Any kind of treats and peanut butter.
What are Pony's favorite tricks to do for a treat? Sitting and posing for a picture.
What is Pony's idea of a perfect day? Being in a big open area to play fetch.
Theme Song: "I Gotta Feeling"- The Black-eyed peas.
Favorite Activity: Definitely fetch and getting treats.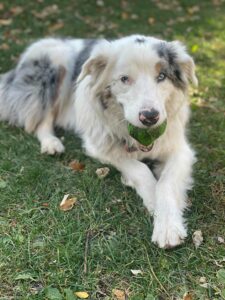 Nicknames: Poe, Pony-nony.
What challenges did you encounter with Pony? Since Pony is deaf I had to learn his sign language for him to understand. Upon learning the commands myself it made me see how intelligent Pony is.
What is your favorite memory of Pony? After he drops his ball for me to throw he'll just look at me and then look at the ball like he's saying "are going to throw it or what?"
If Pony had a catch-phrase, what would it be? "Let's play till your tired."
If Pony was a famous movie character, who would it be? Patch Adams.
Thanks for reading about our furry friend Pony
We are so glad you got to meet our dog of the week, Pony. He says, "less talking, more ball throwing". Our walkers have put together some fun profiles for their doggy clients, keep your eyes peeled for more dogs of the week!