December 28, 2020
Meet the dog of the week: Oakley
Oakley's boon companion Chloe has the inside scoop about Oakley
Meet the dog of the week: Oakley! Oakley is a total sweetheart, she makes everyone around her smile.
Dog's Name: Oakley
Owner's Name: Johanna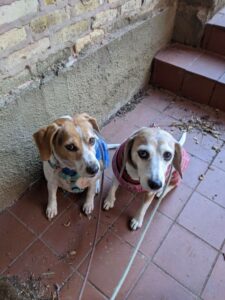 Breed: Beagle mix
Birthday: July 13, 2015
What are Oakley's favorite foods? Any treat she can get! She loves them all.
What are Oakley's favorite tricks to do for a treat? Oakley does sit really well. Also, Oakley gives a good high five/shake for treats.
What is Oakley's idea of a perfect day? The perfect day for Miss Oakley would be getting to say hello to everyone…in the world. Ideally, there would be a giant party filled with people and pups just waiting for her to greet them with her waggy tail and lots of love!
Theme Song: "I've Just Seen A Face" by The Beatles.
Favorite Activity: Oakley loves greeting people. She always makes folks smile as we pass because she
gets a big case of the wiggles and is so excited to see everyone.
Nicknames: Oaks, Oak-a-ley, (also known as the second half of the iconic beagle duo Annie Oakley.)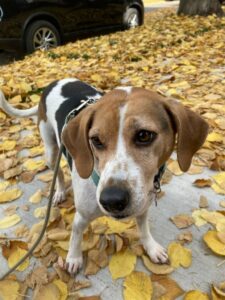 What challenges did you encounter with Oakley? Oakley is not a fan of winter, also, Oakley does not like her coat, she does not like the cold or wet, and she can be quite stubborn about it outside. Although she has gotten braver over the past year or two as she has gotten older, she still needs some extra coaxing from time-to-time.
What is your favorite memory of Oakley? The way Oakley makes everyone smile when she passes them! Even with masks on, I can tell that folks get a kick out of seeing her get so excited and wiggly. I also love playing fetch with her, she has a piggy and a red cardinal that she gets super into and loves playing with.
If Oakley had a catch-phrase, what would it be? The Ultimate "Everybody's Friend."
If Oakley was a famous movie character, who would it be? Tweet – she is wholesome, loving, and adorable; with just the right amount of sass (probably taught to her by her sister.)
Thanks for reading about our furry friend Oakley
We are so glad you got to meet our dog of the week, Oakley. Oakley would also like to say "please, do you have some extra cuddles?" Keep your eyes peeled for more dogs of the week!