July 27, 2020
MEET THE Dog Of The Week: June
June's walker Bethany gives us the down-low about June.
Learn all about our dog of the week, June! June is one of our very favorite French Bulldogs in Chicago! She's got sass and class for days and will put a smile on anyone's face with her tug of war ferocity!
Dog Name: June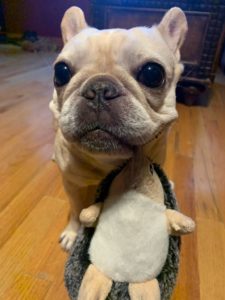 Owner Name: Carrie
Breed: French Bulldog                                             
Birthday: December 31st, 2014
What are June's favorite foods? Charlee Bear treats! 
What are June's favorite tricks to do for a treat? June isn't much for tricks, but she is crate trained. She happily snorts all the way back inside her crate when asked, followed by a few CB's as a reward. 
What is June's idea of a perfect day? A leisurely stroll on a mild summer day over to Holstein park to see and be seen a.k.a. "dog watch." We always follow that with a rousing game of tug with her preferred toy. 
Theme Song: Fast Car by Tracy Chapman or Junie by Solange.
Favorite Activity: June's favorite activity is challenging every car that passes us to a duel. She ALWAYS wins. 
Nicknames: Junie Balooney or Lil' Monsta.
What challenges did you encounter with June? June isn't much for "walking" which makes my job as a "dog walker" more nuanced. Fortunately, she is gentle, portable, and enjoys being carried like a baby. It's a pretty adorable scene and has charmed many strangers walking past us.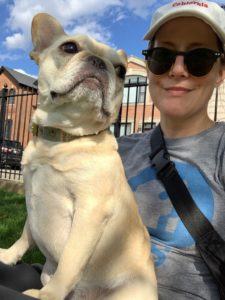 What is your favorite memory of June? The first time she hopped up on my lap on her own volition. 
If June had a catch-phrase, what would it be? "Eat, Sleep, Snort."
If June was a famous movie character, who would it be? Furiosa from Mad Max. 
Thanks for reading about our pal June!
We are so glad you got to meet our dog of the week, June. Or as she would say "bark, bork, bark!" Our walkers have put together some fun profiles for their doggy clients, keep your eyes peeled for more dogs of the week!