September 28, 2020
Meet the dog of the week: Honey bee
Honey Bee's walker Nicole has the inside scoop about Honey Bee.
Learn all about the dog of the week, Honey Bee. Honey Bee is a trick master and adorable chow/shepherd mix with smiles for days. She's always down for a training session in the park with her buddy Nicole!
Dog's Name: Honey Bee
Owner Name: Dan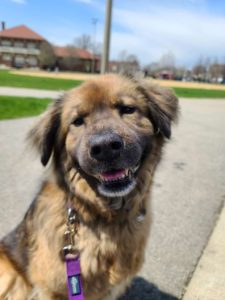 Breed: Chow / Shepherd Mix
Birthday: January 1st, 2011
What are Honey's favorite foods? Training treats and any street snack Stevie manages to miss.
What are Honey's favorite tricks to do for a treat? She looooves playing dead or bowing.
What is Honey's idea of a perfect day? Her perfect day would probably be being able to sit in the nice cool hole she dug on a hot day in the backyard without Stevie stealing it from her.
Theme Song: Walking on Sunshine – Katrina and the Waves
Favorite Activity: Bouncing around in the snow and pouncing on Stevie
Nicknames: Bun-Bun, Honey Bun
What challenges did you encounter with Honey Bee? She's very skittish and it took a long time for her to be okay with me petting her. She especially didn't like it if I was ever behind her. Now she runs to the door for pets and even whips her butt at me for a few butt scratches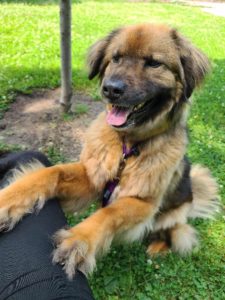 What is your favorite memory of Honey Bee? The first time I got to see her get excited about the snow! She's so calm and quiet but once she sees snow she gets so excited, runs all over the place, and loves pouncing on Stevie.
If Honey Bee had a catch-phrase, what would it be? "Stevie stole my treat again."
If Honey Bee was a famous movie character, who would it be? She would definitely be Bubbles from the Powerpuff Girls.
Thanks for reading about our pal honey bee!
We are so glad you got to meet our dog of the week, Honey Bee. Or as she would say "woof woof!!!!" Our walkers have put together some fun profiles for their doggy clients, keep your eyes peeled for more dogs of the week!