October 5, 2020
Meet the dog of the week: Harvey
Harvey's amigo Brock has all the fun facts about Harvey.
Learn all about the dog of the week, Harvey. Harvey is a goofy little guy who likes to go on strolls in the park and put his nose to work. Harvey is always up for another afternoon adventure!
Dog's Name: Harvey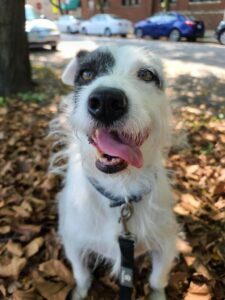 Owner's Name: Nicole & Michael
Breed: Terrier Mix
Birthday: January 1st, 2015
What is Harvey's idea of a perfect day? Harvey's perfect day would be a nice breezy day in fall, filled with lots of squirrels to stare down and leaves to sniff through.
Theme Song: In The Summertime by Mungo Jerry
Favorite Activity: Harvey loves to put his nose to work. He'll go the whole walk and barely look up :).
Nicknames: Mr. Harvey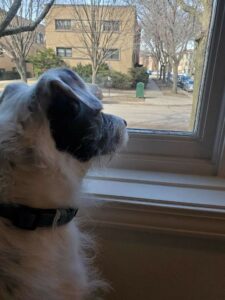 What is your favorite memory of Harvey? Harvey loves to stare out the window in his home. One day when it was raining really hard and we came back early to dry off, we spent a few minutes just sitting together and staring out the window. Every now and then he'd spot something and look up at me as if he was saying "hey! did you see that?!?!?". Made me chuckle 🙂 Also, every time I stop by to see him, he basically goes bananas which warms my heart.
If Harvey had a catch-phrase, what would it be? "You smell that?"
If Harvey was a famous movie character, who would it be? King Fergus from Brave. Partially because of the facial hair but also because I always imagine him having a Scottish accent in my head. Plus, Harvey would TOTALLY tell a story about a squirrel in the exact same way.
Thanks for reading about our pal Harvey!
We are so glad you got to meet our dog of the week, Harvey. Or as he would say "barkedy bark!!!!" Our walkers have put together some fun profiles for their doggy clients, keep your eyes peeled for more dogs of the week!