November 16, 2020
Meet the dog of the week: OLIVe
Olive's gal-pal Zoe gives the inside scoop on Olive
Meet the dog of the week: Olive. Olive is nervous around new people, but once she trusts you all she wants are snuggles. Olive is a smart cookie who loves to show off her tricks (for treats, obviously)
Dog's Name: Olive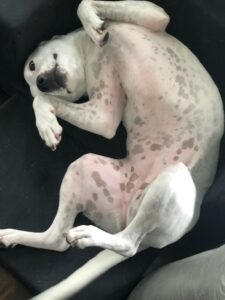 Owner Name: Jenna
Breed: Pitbull/Terrier mix
Birthday: August 23, 2017
What are Olive favorite foods? Olive LOVES her special sweet potato treats. But Olive only wants treats after her walk. Not before. She will not accept a treat before her walk.
What are the Olive favorite tricks to do for a treat? Olive is a trick master! She knows how to nose boop, run up and down the stairs, spin, and is working on rolling over.
What is Olive's idea of a perfect day? Olive would love nothing more than 5 hours of belly rubs while getting treats fed to her – with close friends only.
Theme Song: "Hey Girl" – Lady Gaga
Favorite Activity: Olive loves to sit in her favorite chair and demand cuddles
Nicknames: Ol-Ol, little smoosh, wiggle-worm.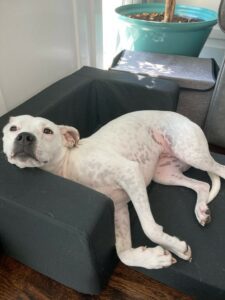 What challenges did you encounter with Olive? Olive is very fearful of new people and would nervously pee every time she saw me for our first couple of visits. It took time, patience, and lots of treats to gain her confidence.
What is your favorite memory of Olive? Once Olive learned to trust me it's been a total joy to see her true goofy personality come out. The first time she greeted me with kisses and demanded belly-rubs I was so delighted. She also doesn't like to spend much time outside, when she is willing to walk longer outside and doesn't get scared it is a success!
If Olive had a catch-phrase, what would it be? "Belly-Rubs > Walks"
If Olive was a famous movie character, who would it be? Piglet from Winnie The Pooh
Thanks for reading about our buddy Olive!
We are so glad you got to meet our dog of the week, Olive. Olive would like to delicately put her paw on you for a treat and attention. Make sure to check out our other dogs of the week!