August 31, 2020
Meet the dog of the week: BAbs
Babs' walker Sarah has the inside scoop about Babs.
Learn all about the dog of the week, Babs. Beautiful Babs beguiles while being the best. She is a cuddle-bug, a goofy goober, and she has a smile that can fill a room. Find out some fun facts about Babs from her best friend Sarah.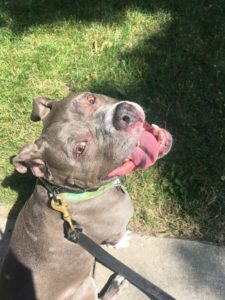 Dog name: Babs
Owners names: Mike and Beth
Breed: Pitbull
Birthday: August 21st, 2010
What are the dog's favorite foods? Babs loves any snacks that the kids drop on the floor. And of course, peanut butter.
What are the dog's favorite tricks to do for a treat? She gives a very gentle handshake. Such a lady!
What is the dog's idea of a perfect day? Babs would love a long rambling walk, followed by a nap, preferably in your lap.
Theme Song: "Don't Rain On My Parade" by Barbara Streisand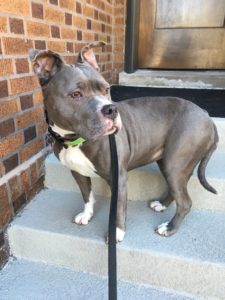 Favorite Activity: Getting cuddles and sitting pretty for treats.
Nicknames: Babsy-girl.
What challenges did you encounter with this dog? Babs will try to eat the leaves off plants as we walk by sometimes.
What is your favorite memory of this dog? Seeing her do tricks for the kids is so charming to watch!
If the dog had a catch-phrase, what would it be? "Just let me eat all the leaves!"
If the dog was a famous person, who would they be? Barbara Streisand
Thanks for reading about our pal Babs!
We are so glad you got to meet our dog of the week, Babs. She is getting excited about fall, which means pumpkin spice dog treats, doggy sweaters, and more colorful leaves to snap up. Our walkers have put together some fun profiles for their doggy clients, keep your eyes peeled for more dogs of the week!