September 7, 2020
Meet the dog of the week: Dexter
Dexter's walker Shaun has the inside scoop about Dexter.
Learn all about the dog of the week, Dexter. Dexter is a 2-pound bundle of pure joy. He is a true gentleman and loves to make new friends in the neighborhood.
Dog's Name: Dexter
Owners' Names: Brian and Juan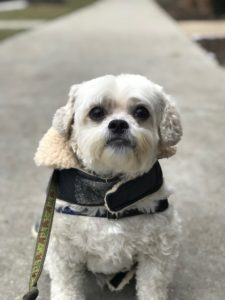 Breed: Pekingese-Poodle Mix
Birthday: February 8, 2008
What are Dexters' favorite foods? He loves his chicken, cottage cheese, and pumpkin.
What is Dexters' idea of a perfect day? His perfect day would be laying down on the couch relaxing and listening to classical music.
Theme Song: Eye of the Tiger-Survivor.
Favorite Activity: His favorite activities are chasing rabbits and his archenemy, the squirrel.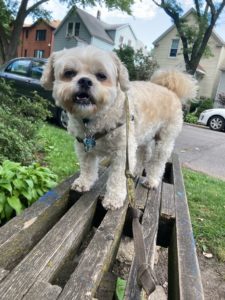 Nicknames: Dex, Dexty
What is your favorite memory of Dexter? The best memory I have is the day I first met him a little over six years ago. He sat in my lap the whole meet and greet and I knew right away we were already best friends.
If Dexter had a catch-phrase, what would it be? "I'll get that squirrel one day".
If Dexter was a famous movie character, who would it be? Mr. Holland from Mr. Holland's Opus.
Thanks for reading about our pal Dexter!
We are so glad you got to meet our dog of the week, Dexter. He may be little but he is chock-full of personality. Our walkers have put together some fun profiles for their doggy clients, keep your eyes peeled for more dogs of the week!