June 20, 2018
As humans, we're all familiar with the physical and mental joys of massage, many of us often begging loved ones for a moment of sweet muscular release and pampering. But why should we be the only ones receiving these therapeutic benefits? Dogs stand to gain just as much from massage as humans do! That's why when we learned about dog massage specialist and educator Denise Theobald, and her company Canis Bodyworks, we had to know more! With over 20 years of canine massage experience, who better to learn from?!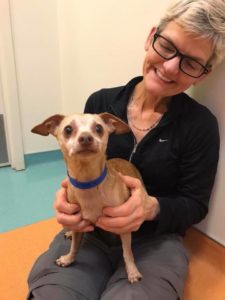 Can you tell us a little about Canis Bodyworks and the services you offer?
Canis Bodyworks offers workshops in trust building, and basic and advanced massage and bodywork techniques. The business Canis Bodyworks is an extension of a school that I created 8 years ago to teach canine massage to those who would like to become canine massage therapists. That school was called The Chicago School of Canine Massage. CSCM offered longer, more intensive coursework specifically designed for the career professional. I changed the platform to break up the coursework so that pet parents and any pet professional can take workshops to enhance the skill set in their particular profession. Our most popular class open to everyone is our trust and relationship building workshop. This, I feel, is the most important knowledge that anyone working with dogs needs in their toolbox to attain trust. No matter if you are pet sitting, working in a vet office, walking a dog, running a pet store or doggy daycare, etc, it is important to have the most bonded relationship possible. This of course applies to pet parents, as well. Our basic canine massage workshop includes trust building along with touch and massage techniques for a variety of benefits. The advanced coursework, like the human massage industry, includes modalities such as trigger point therapy, myofascial release, lymphatic massage, and post surgical massage. These are modalities one would learn if continuing on to do this work professionally. Throughout the years I have been mentoring instructors. We now teach in various locations in the United States and occasionally outside of the country. Canis Bodyworks was created last year by my business partner Sara May and I. Sara has been teaching with me for over 7 years and is the lead instructor in Virginia.
What drove you to found Canis Bodyworks?
CB was an extension from my years of previous training. I have been a full time licensed massage therapist for 30 years. About 20 years ago I realized that my 3 dogs could benefit from massage after watching them continuously overexert themselves. I combined my love of massage and dogs to pursue learning whatever I could about providing massage therapy for dogs. There was not a lot out there on the topic, so much of my learning has been through trial and error; extrapolating my human massage experience and applying it on the canine client, sometimes learning what works or doesn't work the hard way. I had a duel practice until around 7 years ago, and when I left my practice I kept a handful of human clients and went to work exclusively with dogs. About 12 years ago I realized my skill set was not useful if I could not gain a dog's trust. It was then that I dove into the world of canine behavior, particularly working with fearful dogs. That constant learning has brought me to where I am today. I will say that I have had many mentors and teachers throughout my career, however the best teachers are the dogs that I have had the pleasure to work with. We do a lot of work in the shelter community, adding a level of training not found anywhere else. I tell my students that if you can work with a dog whose background is unknown or they are fearful, reactive, and/or shutdown, then you can work with any dog.
What helped you realize that canine massage is important? How did you delve into that world?
By working with my own dogs and understanding that human anatomy and physiology is very similar to canine anatomy and physiology. Also, seeing the results — results don't lie. These results are what have given me, as well as the students and professionals in this field, the conviction to work in a profession that is just now emerging into the mainstream.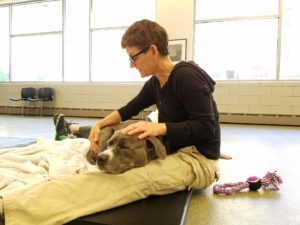 How do you identify when an animal could benefit from therapeutic bodywork? What advice to you have for pet owners who think their animal may be in need?
From observation and assessment. Observation will give us information if the dog is anxious, fearful, stiff, lame, in pain etc. Once we gain trust, we can physically assess through palpating — examining by touch. We call that thinking fingers. Many times pet parents bring their dogs to us strictly for behavior issues or because the dogs are fearful, lack confidence, or react when physically handled. This is when we work to desensitize and counter condition them to accept the presence and touch from a stranger. In some cases it's accepting touch from their own pet parent.
Talk us through a typical session; what does a dog massage look like?
When contacted by a pet parent, we send an intake form to get as much information about the dog as possible. Once arriving for a session, I will watch the dog without any interaction in order to observe their sociability and behavior. After they have been assessed without physical interaction, we will proceed to trust building techniques and work to engage a hands-on assessment. With this hands-on assessment we will determine information of what the dog's tissue feels like, any abnormalities, tight or ischemic muscles, muscular imbalance, sensitivity to touch, etc. From there we will proceed to utilizing massage techniques in accordance with their needs.
What are the differences between human and dog massages? Are there any similarities?
Many, many similarities. However, I do say that learning canine massage is more difficult. Not only do you have to learn canine communication and behavior to know what a dog is telling you, you have to learn the nuances of human massage techniques and the way those techniques can be applied on a dog's body. Proper body mechanics, awareness, and troubleshooting are skills needed on a higher level to do this work.
We know some dogs that can't sit still for a single second! How do you deal with pups like that?
A major component of what we instruct is teaching the dog to relax and trust you. We focus on making the session a positive experience so that the dog WANTS to come back and that the touch is always something the dog asks for.
Do you ever use sedatives or relaxants?
Never, ever, ever.
Are there any dangers associated with canine massage and bodywork?
There are some contraindications to certain techniques and for certain conditions. Of course for skin lesions, open sore, fever and certain cancers we stay away from affected area. For the most part there is always some kind of nurturing touch for all animals for all conditions. This is where palliative/hospice and specific types of techniques come in.
Tell us about Jackson, Lucy, Stanley, and Eos!
Jackson is our 9 and 1/2 year- old red lab who has really taught me a lot about dogs with anxiety disorders. We rescued him at 6 weeks and he could not walk due to a condition called swimmers puppy syndrome. We were able to get him walking, however he still carried a lot of anxiety caused by being taken away from his mom at 5 weeks, not being able to walk and explore at a young age, as well as general genetics. Through some anti-anxiety meds and lots of behavior medication he turned out to be a great dog. Lucy is our 7 and 1/2 year old rescued lab mix. She is also a lovable great dog and we call her our little food vacuum. Stanley is a cat that walked down our driveway 14 years ago as a stray kitten and has been an absolute lover. Eos, our 4 year old, was a kitten who was brought to me by a wonderful foster provider. This woman had 6 fosters at the time and asked me to help because the kitten was only 7 weeks old and handicapped with a condition called quadriceps contractor. It seems upon looking at her that her legs are on backward. After bringing her in to see my colleagues at Integrative Pet Care in Chicago — with the entire staff present — Dr. Ridley concluded that she can adapt with therapy. Well, she has adapted, and she gets lots of bodywork and still some chiropractic care from Dr. Ridley, and she is doing great. We also foster from time to time, as we come across lots of animals with special needs when I am teaching. And we love it!
Interested in attending one of Canis Bodyworks' many workshops? Consider attending their July 27th Trust and Relationship Workshop! They are proud to offer a 20% discount for people that volunteer or work at animal shelters or rescues!
Thanks to Aaron Taub, our Avondale and Irving Park walker, and our Operations Director, Becky, for conducting this interview, and to Denise Theobald for her time, and thorough and informative answers.