January 27, 2015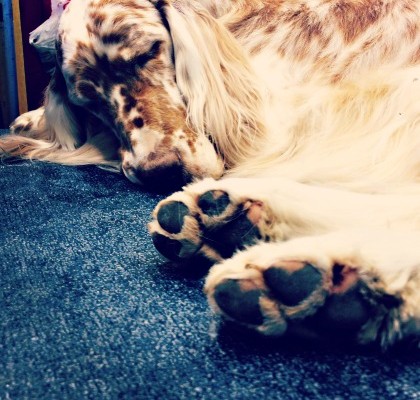 If your dog hates nail trims, you're far from alone. If you've purchased a grinder tool (like the Dremel or Pedi-Paws) to ease the discomfort, you're in good company! And if your dog runs at the sound of the tool, you're probably very frustrated, but this can be fixed with a little time and patience.
First off, a nail grinder is a great alternative to sharp clippers. There's much less risk of damage when used correctly. However, your first challenge is getting your dog to cooperate long enough to use it properly! Rather than fighting with your pup and forcing the issue, I suggest helping your dog get used to the experience and making it a pleasant event.
Remember to take baby steps. When desensitizing your dog to anything, break it down into tiny, achievable steps, and never push too far too fast. The goal is for your dog to stay relaxed and comfortable through the whole process, piece by piece. If at any point your dog stops cooperating with you and seems stressed, stop and go back to the last step.
Make it fun! Get out the super "high value" treats. That means lamb lung, lunch meat, hot dogs — whatever your dog loves the most. Reward your dog every single time you do one of the steps.
Start out by sitting near your dog with the grinder behind your back. Turn it on for a second, then reward your dog. Repeat 5 times. Give your dog a break.
Slowly introduce the following steps:
• Turn the grinder on in front of you for a few seconds; reward.
• Bring the grinder close to your dog's paw (while it's off); reward.
• Touch the grinder to one of your dog's nails (while it's off); reward.
• Turn the grinder on and touch it to a nail; reward.
• Turn the grinder on and touch it to a couple of nails; reward.
• Grind one whole paw; reward.
• Keep building on this until you can do all four paws in one session.
Each of the above steps should be repeated – in a relaxed and fun way – until your dog is totally cool with that step. This might mean that it takes you 1-5 times a day, for a few minutes, over a period of a week to get through step 1. That's okay! Keep a calendar or notes on your progress to help you stay on track.
Keep sessions short and successful. If your dog is doing well, end your session on a good note. Don't be tempted to jump 3 steps ahead. With patience and practice, your dog can learn to love getting a mani-pedi!
For an example of a pup comfortably tolerating his nail grind, check out this helpful video by Miles & Emma.
Are you interested in dog walking services and live in Chicago?
Contact us today at support@rover-time.com or visit our Home Page for more information! 
---
WANT more pet health information?
Check out these other blogs by rover-time!
The Best Type of Bowl for Your Dog
The Health Benefits of Owning a Dog
5 Reasons You Should Play With Your Dog
4 Reasons You Should Spay Your Pet
Rover-Time's Tips, Tricks, and Gear for Better Walks!
Lynda manages our dog walking team at Rover-Time. Her career focus is on dog training and behavior and her approach is based on science, positive reinforcement, and humane methods to improve relationships between humans and their pets. She's also a senior trainer at Animal Sense in the evenings and co-parents her own dogs, Surf and Ryan, with her other half Mary.