December 6, 2017

Chauncey is really taking this holiday wishlist of his very seriously. Today we logged on to discover his eighth must-have for the holidays. He's currently obsessing over Eliza Rosen's illustrations and custom pet portraits! Check out his very specific request.
Day 8: A custem pawtrit frum Eliza Rosen.
mom alridee haz many fotos of me but itz not enuff. i want 2 bee painted wiff a nice hat lyk dis dog.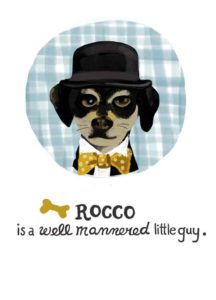 Eliza onlee has 2 spotz left 4 custem pawtritz in 2017. MAWM HURRRRY.
Chauncey's hat request from yesterday is making a lot more sense now. We'll have to let him know that a real-life hat isn't required for Eliza's fabulous creations. (Unless he really wants the hat? He can be a mystery sometimes.)
Eliza Rosen's colorful portraits capture your pet's unique persona and style. Just fill out a quick application and send a clear headshot of your fur baby and Eliza will have everything she needs to create your perfect piece. Each is digitally painted and printed on lovely, heavy weight, archival paper.
Choose from a range of packages:
Mix & Match by picking your favorite breed and the design that you like best ($42).
Custom Tailor a design from the gallery with your pet' sweet face ($85).
Go Fully Custom for a one-of-a-kind portrait that reflects your pet's unique story ($250-$675).
We love the vintage feel and quirky charm of her illustrations! Be sure to check out her holiday cards if you're looking for something special for this season's stationary.
Becky is Rover-Time's Operations Director and has been with our company since June, 2014. She supports the relationships we have with incoming and existing customers. She also oversees new hire onboarding and the longterm success of our walking team. She loves animals, improv, and learning to cook. And now, she also "loves" running.