December 5, 2017

Chauncey has been pretty diligent about his holiday wishlist but today's note has really thrown us for a loop. We're not really sure what to make of it.
Day 9: hat
A hat?
We're almost wondering if he started to type something and got distracted by the doorbell. He hasn't seemed overly interested in wearing hats in the past. Proof seen here: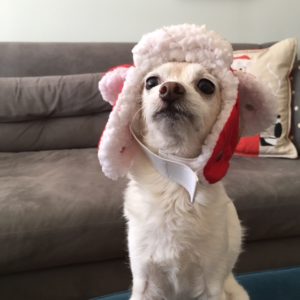 Maybe he was trying to type something else? We tried searching "Chauncey Billups hat" on Google to see if that might help us come up with some ideas. We found this pretty righteous 2004 collectible. We're going to keep that in our cart until we come up with some other idea. Stay tuned. We might find out more.
Until then, feel free to review Day 12, Day 11, and Day 10.
Becky is Rover-Time's Operations Director and has been with our company since June, 2014. She supports the relationships we have with incoming and existing customers. She also oversees new hire onboarding and the longterm success of our walking team. She loves animals, improv, and learning to cook. And now, she also "loves" running.