November 21, 2017

The other day I sat down to get some work done for Rover-Time and found a poorly spelled list on the screen. Chauncey, my dog, pulled out his administrative skills once again to share his most sincere holiday wishes. He hasn't done this since 2013, so I'm entertaining the idea and bringing back his Twelve Days of Christmas contribution to our blog.
Over the next couple of weeks leading up to the winter holiday, we'll share his twelve must haves. Enjoy.
Day 12: Fotoz with sAnta
I'd luv an updatid foto with sanTa fur the maNtal. Thee laSt wun we tuk iz frum 2014!!.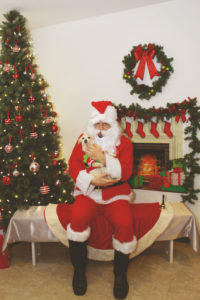 Luckee fur me and yoo, Rover-Time iz hosteng a fotos with SantA eventt on Desembrr 3 at Half Pint Shop. Kan we Go? Here's a linCk fur tikcets.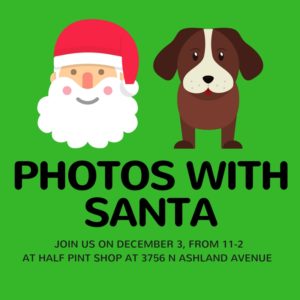 Chauncey's right. Rover-Time is hosting a special event for the public. To learn more, check out the Facebook Event here. We'd love to see you there!!
Julia Rohan founded Rover-Time in January of 2012 and received her formal training at FetchFind Academy, a program for aspiring dog trainers, based in Chicago. Julia lives in Irving Park with her husband Mark. Together they co-parent Archer, their 2-year old son, and Chauncey Billups Vanderhoff, an over-confident, territorial, and anxious 8lb. Chihuahua-Terrier mix. Both boys melt her heart hourly.