October 26, 2020
Meet the dog of the week: Sammy
Sammy's buddy Zoe has the inside scoop about Sammy
Learn all about the dog of the week, Sammy. Sammy loves helping out by snoozing right next to you while you work and saying a friendly hello to everyone he meets.
Dog's Name: Sammy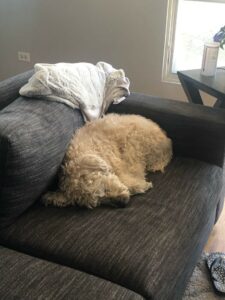 Owner Name: Kathryn
Breed: Wheaton Terrier
Birthday: May 3rd, 2007
What are Sammy's favorite foods? Cheese and treats
What are Sammy's favorite tricks to do for a treat? Sammy gets treats just for being himself, no tricks needed.
What is Sammy's idea of a perfect day? Sammy would start the day with lazy snuggles and cuddles before heading out to stretch his legs and say hi to all the neighbors. He loves to spend time with his humans helping them relax and then in the evening get chased around the house playing with his chicken toy.
Theme Song: "My Way" by Frank Sinatra
Favorite Activity: Snoozing by a human's feet.
Nicknames: Sam-man, Sam-Sam.
What challenges did you encounter with Sammy? When I dog-sit for Sammy he HATES it when I workout. He would much prefer that I sit quietly next to him and give pets. I have to convince him with pets that it's okay for me to workout.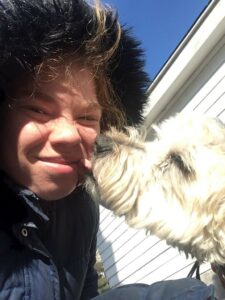 What is your favorite memory of Sammy? One Halloween I dressed Sammy in his Cubs outfit and we went to a doggy Halloween parade in his neighborhood and had a blast.
If Sammy had a catch-phrase, what would it be? "Chase me! (No catch tho)"
If Sammy was a famous movie character, who would it be? Fozzie Bear from the Muppets
Thanks for reading about our boy Sammy!
We are so glad you got to meet our dog of the week, Sammy. He would love to give you a kiss now.  Our walkers have put together some fun profiles for their doggy clients, keep your eyes peeled for more dogs of the week!