December 7, 2020
Meet the dog of the week: Lulu
Lulu's buddy Nicole has all the info on Lulu!
Meet the dog of the week: Lulu! Lulu is a special princess who loves to play with her soccer ball and hang out in the yard. She's a big fan of pets and snugs. And look at that SMILE!!! 🙂 She's always a happy girl!
Dog's Name: Lulu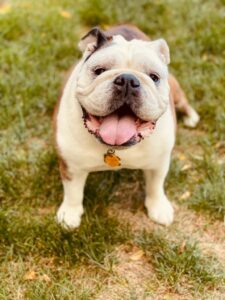 Owner's Name: Jessica
Breed: Bulldog
Birthday: March 14, 2008
What are the dog's favorite foods? Anything with peanut butter.
What is the dog's idea of a perfect day? Napping on the couch and then waking up for a round of soccer in the yard mixed with some Tug-of-War.
Theme Song: "Don't Worry, Be Happy" – Bobby McFerrin
Favorite Activity: Playing soccer and Tug-of-War while getting tons of pets.
Nicknames: Lu, Baby, Princess, Precious Girl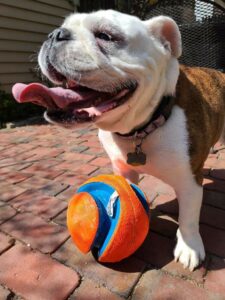 What challenges did you first encounter with this dog? None, she is an absolutely perfect angel.
What is your favorite memory of this dog? When she got excited to see me, pushed herself against me for some pets, and then ran out the back door to play soccer with me.
If the dog had a catch-phrase, what would it be? "More soccer now, please"
If the dog was a famous movie character, who would it be? Kit Keller – "A League of their Own"
Thanks for reading about Princess Lulu!
We are so glad you got to meet our dog of the week, Lulu! She says, "Woof woof! Thanks for reading but can we go play now?" Our walkers have put together some fun profiles for their doggy clients, keep your eyes peeled for more dogs of the week!