August 3, 2020
MEET THE Dog Of The Week: Myles
Myles' walker Joanne has the inside scoop about Myles.
Learn all about our dog of the week, Myles, our very favorite Goldendoodle in the tri-county area! He's always cool as a cucumber and ready to soak up some sun!
Dog's Name: Myles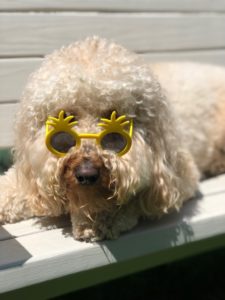 Owner Name: Dave
Breed: Goldendoodle
Birthday: June 8, 2016 
What are Myles's favorite foods? Peanut Butter (and treats with PB), chicken, Smart Bones treats (peanut butter, chicken/bacon flavor).
What are Myles's favorite tricks to do for a treat? Sit pretty and be a dog model. Myles always sits adorably to take a picture; he just waits until he gets his photograph.  Myles even picks out his own backdrop for the pictures. I need to raise his "model" payment to double treats.
What are Myles's favorite toy(s)? Lamb, rabbit, pig, and red heart.
What is Myles's idea of a perfect day? Getting a full body massage, playing chase with his favorite toy. Then heading out for an adventure walk, searching out squirrels and rabbits.
Theme Song: Happy (by Pharrell Williams.) Myles makes everyday walks full of happiness
Favorite Activity: Playing Hide & Seek around the kitchen island. He also likes to be chased. 
Nicknames: Bear, Doodle-bear, Buddy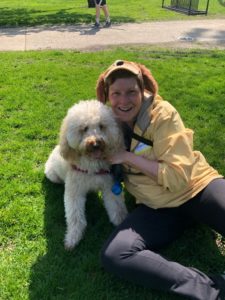 When you enter the house what does Myles do?  Myles is anxiously waiting at the door with one of his favorite toys, tail wagging. Then he starts running away to play "chase me." He ends with his "downward dog" pose so I can scratch his armpits.
What does Myles do when he goes outside? Looks up at trees hoping to chase up the tree for a squirrel.
If Myles had a catch-phrase, what would it be? "Take my picture".
What personality does Myles have? Sensitive and dopey.
Cubs or Sox? Cubs
If Myles was a  famous movie character, who would it be? Olaf from Frozen
Thanks for reading about our pal Myles!
We are so glad you got to meet our dog of the week, Myles. Or as he would say "bark, bark, bark, sniff, bark!" Our walkers have put together some fun profiles for their doggy clients, keep your eyes peeled for more dogs of the week!