April 14, 2021
Meet the Cat of the month: leo
Leo's best bud Chloe has the scoop about this cuddle-bug
Meet the cat of the month: Leo. He is ready to steal food and take names!
Cat Name: Leo
Owner's Name: Nicole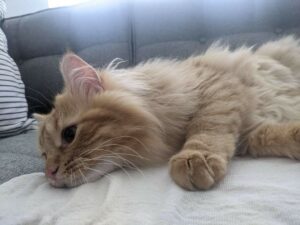 Breed: Tabby
Birthday: March 21, 2020
What are Leo's favorite foods?
Leo loooves wet food. He would happily eat his brother's helping of wet food if allowed.
What toy does Leo like to play with?
He loves chasing the ball around on the couch, or around the apartment depending on how far I would throw it. If I remember right, they were the mylar crinkle balls that are extra shiny and extra crinkly.
How sassy is Leo on a scale of 1-10?
Hard to tell, he may grow into his sass a bit more. I would give him….a 4. It's subtle, but it's there.
What is Leo's idea of a perfect day?
Ideally, endless amounts of wet food for him to eat at his leisure. Followed by a multitude of playtime and snuggles with his humans! He is a very social, lovey boy.
Favorite Activity:
Leo loves to follow me around the apartment, he is my little helper/shadow. But he especially loves playing and getting snuggles on the couch.
What challenges did you encounter with Leo?
Leo really is a food fiend. So I had to take extra care to try to keep him from eating his brother's food. And since his brother (Arnold) is a very shy boy, it was a bit of a puzzle at times.
When Leo is meowing at you, what do you think they are saying?
"But if Arnold's not going to eat it, what's the problem?"
What is your favorite memory of Leo?
All the snuggles! Kitten snuggles are the best and the first time I met Leo, he was just over 4 months old. He would just rub and roll all over my legs.
Nicknames:
Since his name is already short, I would give him an extension. Leopold being the most used.
Theme Song:
Some Kind of Wonderful by Grand Funk Railroad – just the general vibe and happiness of the song, also a dedication to his momma.
If Leo had a catch-phrase, what would it be?
"Food, Snuggle, Play, Repeat."
If Leo was a famous movie character, who would it be?
A lovable rascal, Han Solo-type without a doubt.
Thanks for reading about this fuzzy goofball
We are so glad you got to meet our cat of the month, Leo, he wants you to know that he is available for snuggles at any time. Last but not least, keep your eyes peeled for more dogs of the week!