August 12, 2014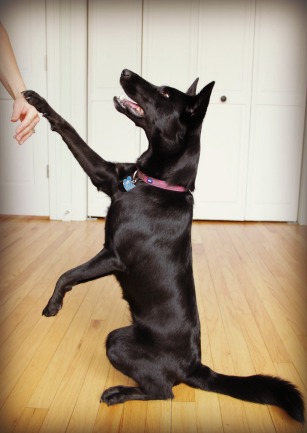 When Squash was a puppy, she learned tricks lightening fast. "Sit" was a no brainer. She pretty much rolled her eyes and yawned at me when I started teaching her that one. Within two weeks, she mastered shake, lay down, jump, roll-over, sit up, high five and play dead ("Bang! Bang!"). When the holidays rolled around, she was a one-dog show and performed her full repertoire in front of large crowds (aka my family).
She's not perfect though. When it comes to sit up, she won't do it unless you give her your hand to rest on – like a prim lady who waits for the gentleman to offer his hand before getting out of the car.
Recently, I taught her twirl – her favorite. She'll do it five times in a row without reward. Unfortunately, it's come at the expense of roll-over. Now, if you ask her to roll over, she twirls. Even if I get her to lay down and nudge her on her back, she'll pop up and twirl. I've tried making the cues and gestures more distinct. Either way, I'm convinced that she just prefers to twirl…and I'm okay with that.
I know Sqaushilee has the capacity to learn so much more, but my busy schedule has interfered with training sessions.
Most of our pet parents are on-the-go working folks who don't always have extra time for teaching, but it's still a joy to see our pets learn something new. So, I've come up with a list of tricks that build on behaviors our pups already do (at least my pup does these) and won't require much more energy to teach/learn:
Yawn/Stretch
Put a tin or sealed container of doggie treats in your bedside table. In the mornings when your pup wakes up and stretches, say the command "Streeeeetch" then treat her. Or do the same with "Yawn". It's much cuter if they can do it on cue.
Bonjour!
"Shake" is common trick that most dogs know and do well. A simple way to amp it up is changing the command to "Hello" in a different language. Squasharoo shakes for "Bonjour!". The little girls next door get a kick out of seeing her respond to French.
Shred Paper
I don't have a paper shredder and I've never felt the need for one – mostly because Squashmina does a beautiful job at it. She doesn't even need a treat. Simply making a mess of smaller pieces of paper is reward enough. Now I need to teach her how to put the pieces in the trash.
Pick-a-Pocket
If it's sitting within nose reach, Squashabeth will inspect every grocery bag, purse, bookbag, basket, and duffle. I'm not sure what she's searching for, but I'm tempted to teach her to fetch wallets. This could be a good party trick for when friends come over. I could require a "bag check" at the door where Squash rifles through bags and purses, pulls out a wallet and brings it to me.
Shake It Off
With the rainy summer we've had in Chicago, wiping down Squash and her paws has become a daily routine. And there's always one last full-body shake when we're done. It would be pretty great if I could get her to "Shake it off" on command.
Can I Get a Lil Sympathy?
We've all had those days that can't go by quick enough. The best part about having a dog is their ability to lift your spirit with such simple gestures – a slight cock of her head, her head in your lap, a paw on your hand, a sigh, a kiss. With a little encouragement and a few well-timed treats, you can have a smile-inducing behavior on command for those moments you "could use a lil sympathy".
For the Advanced Learners
For the super smart pooches, I want to also share a few trickier tricks that I think are awesome and several steps beyond the ones above. Hopefully one day I'll get to these with Squashington.
Karate Kick – By Dr. Sophia Yin
I died over this one. 
Bang! Bang! (to the next level) – By Doggie Buddy
I thought playing dead was hard enough. This takes true acting.
Somersault – another by Dr. Sophia Yin
If only I had a tennis ball on a pointer stick.
Don't you agree? – By KikoPup
This video teaches how to shake "no", but I assume same concept applies for nodding "yes" if you put the post-its high and low.
Apparently it's super hard to teach a dog to nod their head yes. However, if your pup has patience and persistence, this trick would be great for any relationship. During a disagreement with your significant other, you just ask Fido, "Don't you agree?" and it's automatically 2-1.
Let's hear from you!
Does your dog know any impressive tricks?
Do you have any that you are working on or would like to try?
Katy is the proud parent of a sweet, smart, energetic "borador" named Squash (aka Squasharina, aka Squashinator, aka Squishy). For the last several months, Katy assisted the administrative team part-time but is signing off for now. Many thanks to her months of help!