September 12, 2018
Rover-Time's Back to School Swim Party was nothing short of total joy.
You guys! Last weekend many of us Rover-Time's gathered for one of the most fun-filled days of all of our lives: a DOGGY SWIM PARTY and it was an absolute blast. The happiness, the butt wiggles, the wet fur-faces, I hope you'll join us at a future client appreciation event.
This month Doggy Paddle Aquatic Center For Dogs warmly hosted us. They opened up their adorable indoor dog park to us so we had a fun spot in the center to welcome and feed our guests. Attendees were offered one-on-one Learn To Swim instruction to help each dog develop swim skills and pool etiquette. As an observer, it was fascinating to watch our client's dogs develop confidence with the stairs and proper swimming form. I highly recommend checking out this awesome spot in Chicago! They even supply dog swimming jackets in all sizes and dog swimming pool toys!!
The Doggy Paddle mission is to promote physical and mental longevity and the special bond between pups and their parents. The center provides three pools. One is specifically for teaching, another is for calm dogs, puppies, older dogs to exercise and relax in. And the third is an active dog pool where pups can expend all their energy competitively swimming, jumping and retrieving. Aside from feeling incredibly safe, it's a fun, lovely spot right in the heart of Bucktown.
The next Rover-Time gathering is at Indigo & Violet on Sunday, October 28 from 2-4. Registration will begin soon. Add yourself to the Facebook Event page to keep on top of details.
For now, please savor this adorable photo collage from our day in the pool.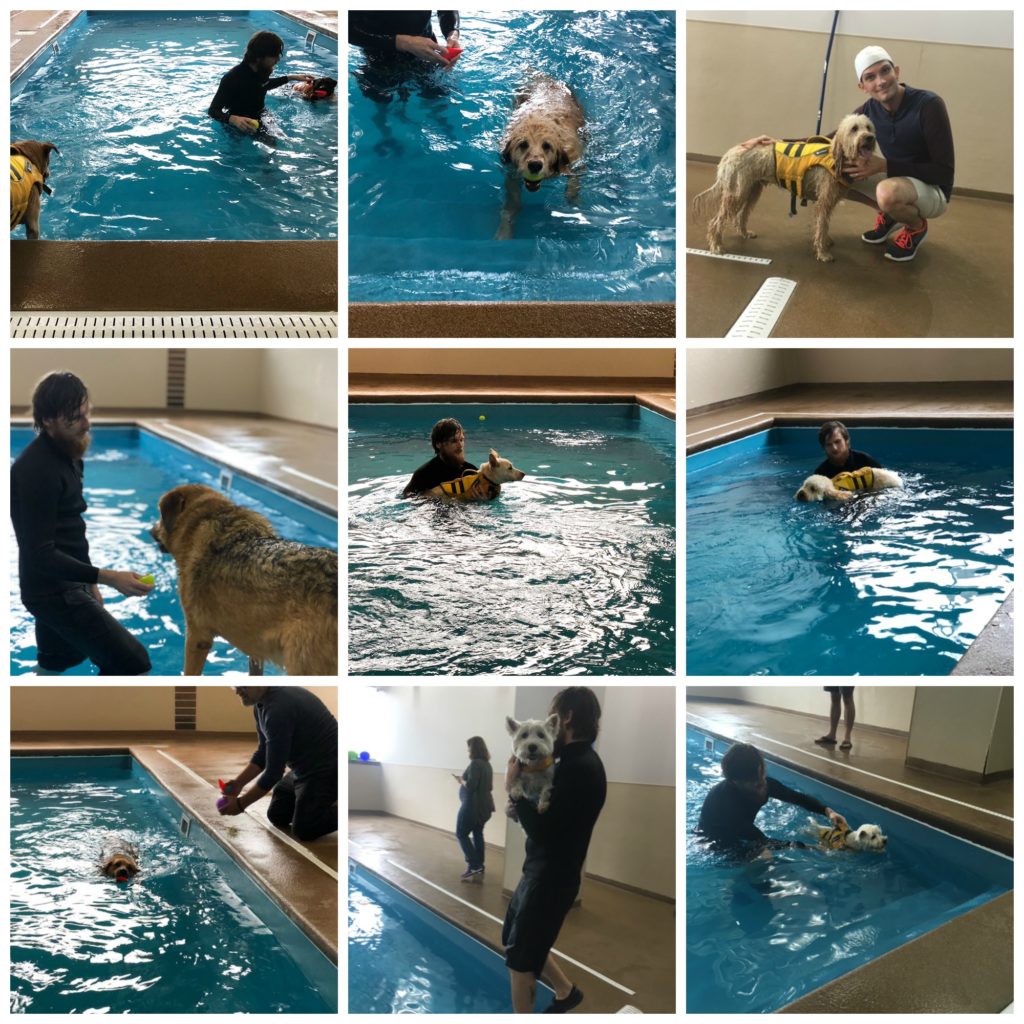 Julia Rohan founded Rover-Time in January of 2012 and received her formal training at FetchFind Academy, a program for aspiring dog trainers, based in Chicago. Julia lives in Irving Park with her husband Mark. Together they co-parent Archer, their 3-year old son, and Chauncey Billups Vanderhoff, an over-confident, territorial, and anxious 8lb. Chihuahua-Terrier mix. Both boys melt her heart hourly.