June 5, 2014
Mark & I recently volunteered for the second time at Community Pet Day. The event, now the fourth of its kind, was organized by Chicago Community Pet Coalition (or CPC) which is a team of three amazing rescues in Chicago: One Tail, New Leash on Life-Chicago and Alive Rescue.
Heather Owen from One Tail was kind enough to sit down for a quick Q&A to explain more. But first, I want to share some amazing stats from our day with CPC in Humboldt Park because nearly 240 dogs and their families were served in just four hours!
Here's what we learned about the dogs we assisted:
* 70% were intact
* 35% had never been to a vet
* 47% had never received a rabies vaccination
Here's what Chicago Pet Coalition did to help:
* Scheduled 47 free spay/neuter appointments and handed out 40 vouchers for a total of 87 surgeries
* Microchipped 195 dogs
* Vaccinated over 150 dogs
* Gave out supplies, training, food, crates, leashes and collars, and so much more!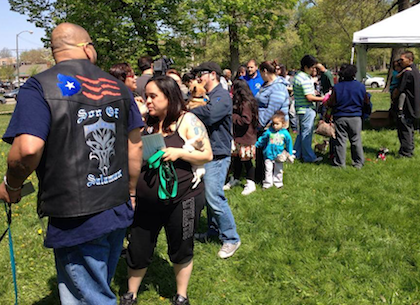 Q. Many of our readers know about One Tail at a Time, but remind us what your organization does and your role.
Heather Owen: I'm the Board President and one of the co-founders. Basically I get to do all the fun stuff like create new programs and coalitions and plan really fun community events.
Q. When and how did Community Pet Day come about?
HO: One Tail at a Time starting doing them about two years ago. We started seeing new studies and data suggesting that a great way to keep pets out of shelters was to keep them with the people that loved them. Some of the really well known groups like Bad Rap were doing community days and vaccine clinics so we took their ideas and fit them to our community. Since then, we've evolved quite a bit. We opened the events up to all breeds, added a vaccine clinic, added free spay/neuter opportunities and recently joined forces with ALIVE and New Leash on Life to create the Chicago Community Pet Coalition.
Q. What kind of things do you do at Community Pet Day?
HO: We provide important resources to pet owners for free. We microchip dogs and register the chips – and as a side note, every single time we have done this, we have been notified of a dog that was found running loose and then reunited with their owner due to our microchip. It's certainly been a validation of our efforts! We also provide free vaccines, leashes and collars, food, flea/tick preventative, positive reinforcement training advice and tools – and in some cases we provide extra veterinary care through One Tail at a Time's vet assistance fund.
Q. How many pets did you help this year?
HO: We helped 230 at our last Community Pet Day on May 18th! We have another one planned, so we're hoping to help 500 dogs, and their families, this year.
Q. What is the atmosphere there with all those pets and people?
HO: Surprisingly it's very calm and very positive. I think the first few times we ran these I was such a mess that I didn't get to truly appreciate them. Now it's like a well-oiled machine and we have so many hard working volunteers that I got a chance to chat with a lot of the attendees. Everyone is so grateful and so happy to show off their dog. It's just a really fun, really happy day.
Q. Why did you team up with the two other rescues to become the Chicago Community Pet Coalition?
HO: We want this program to help as many families as possible, so we teamed up with some like-minded groups to pool our resources and ideas. It worked, because this time we were able to double the amount of people we offered free spay/neuter to. It's been really great working with ALIVE and New Leash on Life and I think this coalition is going to ensure the longevity of the program.
Q. What are you most proud of with Community Pet Days?
HO: We're at the forefront of animal welfare right now. There are still people doing rescue and shelter work that constantly judge people giving up their pets. We still consistently hear "if you can't afford a pet you shouldn't have one". We've been able to suspend judgment and do what studies have shown is the most economical and efficient way to keep pets out of shelters and in homes. I really think this kind of community animal welfare effort is going to catch on and you're going to see it more and more. We're proud to be at the forefront of that.
Q. How can others get involved and help your cause?
HO: First, take a moment to rethink why pets end up in shelters. Challenge yourself and your views on poverty, shelters and communities. If you believe in what we do, then come volunteer, donate or help us get sponsors. We need you!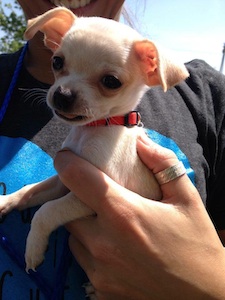 If you would like to learn more and find out how to help support this awesome group of people and their admirable cause, please visit their website or check out One Tail at a Time's Facebook page for updates.
Also be sure to check out the NBC 5 feature of the event, and take a look at the photo album of the event!