May 30, 2019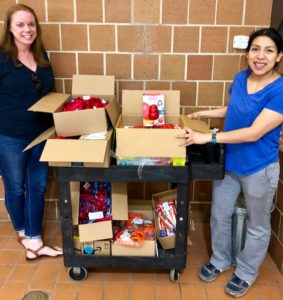 Rover-Time's Spring Donation Drive benefiting Chicago Animal Care & Control has officially come to a close. This year, we raised $1,940.86 worth of necessities. And over the last four years, Rover-Time has officially collected just under $10,000 worth of specialty items for CACC. We support this incredible facility with all our hearts.
Here's why.
Animal Control is a municipal open-admission control and sheltering facility that cannot accept monetary donations. Supply drives like the one we organized helps and really anyone can do it. Hopefully it lifts a temporary burden and makes someone's day at work, a little easier. I only wish we could do more for the folks that truly do the real work at CACC and outside of it, those folks that take it a step further.

Taking it to the next level looks like volunteering. Setting up a monthly donation to a rescue you adore. Or maybe fostering a pup a couple times a year. It's hard work. But it's rewarding and good work.
Today we drove our collection of collars, Kongs, and leashes down to our city's shelter, located on Chicago's lower west side. Many of these necessities will head back out the door with CACC adopters because every dog needs a good collar and leash to start their new life with.

As I said last July, at Rover-Time we have personally witnessed the transformation of an adopted pet finding its home, its place, and purpose. We have been honored to serve hundreds of pet-loving families that supported their local animal rescue. Connective conversations with these families have helped us become a trusted referral source that advocates on behalf of all pets while attempting to bridge gaps in our community and larger city. After all, dog walking isn't just about taking care of the dogs, it's about their pet parents, too!
We are so grateful for those of you that contributed. Thank you everyone for your gift to our collection. Every box we opened made my day. It meant the world to unpack it and pile it up with everything else that came through our doors. We sincerely appreciate you and we look forward to doing our part next year.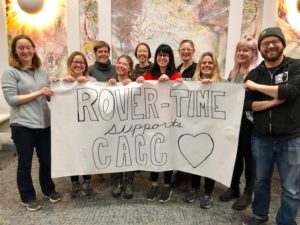 Julia Rohan founded Rover-Time in January of 2012 and received her formal training at FetchFind Academy, a program for aspiring dog trainers, based in Chicago. Julia lives in Irving Park with her husband Mark. Together they co-parent Archer, their 4-year old son, Lou, their 6-month old, and Chauncey Billups Vanderhoff, an over-confident, territorial, and anxious 8lb. Chihuahua-Terrier mix. All the boys do a decent job of melting her heart hourly.