May 29, 2019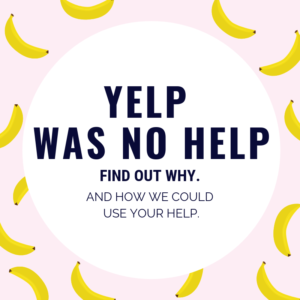 Picture this.

It's November 16, 2018. I'm approximately eight days postpartum with my second child. I'm recovering from a cesarean, which is pretty major abdominal surgery. Home from the hospital, I'm discovering that my newborn has a tongue and lip tie that's preventing him from effectively being able to eat. My body is sore and numb in more ways than one.

As lucky as I am to own a thriving small business, self-employed maternity leaves are an absolute joke. But I've learned to laugh. So on that day in November, with my eight day old sleeping nearby, I was working. 

I logged into email and jumped around to all the platforms that support our business. One of those platforms is Yelp. We frequently have to check the status of our reputation over there because Rover-Time is reviewed often by irate, super angry Rover.com clients. We unfortunately share a very similarly named company and their customers have no idea where to go to complain, which (trust me) they do often. But I digress. 

Yelp says that it was built to foster connections between the consumers who read and write reviews, and the local businesses that they write about. Many local businesses rely heavily on Yelp reviews to bring in both repeat and new customers and to facilitate their reputation management strategies. But on this day back in November, I discovered that Yelp changed its algorithm, also referred to as its "recommendation software," which unfortunately led to (at the time) over 80 of Rover-Time's positive reviews being lost.

I have an anxiety disorder. My heart dropped the instant I caught on to what happened to our account over there. And postpartum, when my hormones are already whack, everything feels well, worse. I remember thinking to myself, "My business is going to collapse. How can I fix this now? I just had a baby. I have all these people working for me, how will I provide them with enough work?  Why haven't my competitors been affected by this? Is it because I cut my advertising budget with Yelp? Why would anyone trust us when they could go to someone with 100+ reviews? How will we find new business? Rover-Time is going to crumble." In a panic, I honestly felt scared.
I realize now, these thoughts were irrational and we are going to be fine but if I'm being frank, I'm still mad as hell. I'm mad at Yelp for this damaging move that truly affects small business, not just mine. This move, Yelp's decision to do this is 100% anti-small business. It's gross and super disappointing. 

I have been meaning to write this blog for sometime. Louie, the newborn, is now almost seven months. He's far from sleeping through the night but I'm a little less in the clouds. I can finally jot down a little insight to share with you. Here it is:

Yelp filters reviews. That's nothing new. However, the way in which it filters reviews displayed as "recommended reviews" faced big changes last November, affecting nearly every business that carries a Yelp profile, in all niches. The conclusion? Yelp is filtering reviews when there are too many positive ones. This has been suspected since many businesses have lost lots of reviews, in some cases up to 75% of their reviews. The backlash on social media showcases surprised, frustrated and downright upset unhappy business owners who have no idea what's going on. After all, reviews are hard to get! No one wants to waste them, especially the really good ones.



The new Yelp algorithm breaks down in this way:

Yelp activity: If Yelp sees that individuals are spending little to no time browsing Yelp on their phones or computers, these will be deemed "dead accounts" and reviews will be filtered.
Too many positive reviews: If a business' reviews are too positive, the algorithm can demote some of those positive reviews so it can show a combination of positive and negative reviews in an effort to be more helpful and reliable. But for businesses like mine, that just do a good job and have lots of happy customers, we get screwed. Thanks Yelp.
How to help: Yeah, I'm feeling pretty annoyed by Yelp but I'm still going to suggest this… add Yelp's app to your phone. Interact with your account a couple of times a year. This will help not just Rover-Time but all the small businesses you frequent.
Fun to know: When I called Yelp and spoke with someone I managed to get him to say what I had a feeling they'd say… If I wanted a healthy and robust Yelp account, my client demographic also needs to be an active Yelp user. Which is kinda bullshit, amirite?
As tempting as it is to link this article to our Yelp page and urge you to review us, Yelp tracks referring URLs (because they're the worst). So I won't do that. But from your computer, head over to Yelp. Look us up. And then review us. Help us rebuild our reviews. Please. While you're at it, if you've only reviewed us, review a handful of other companies you've been meaning to compliment.

Then copy and paste our review and add it to Google.
Google's where it's at anyhow. I would love to build our client's presence and our number of reviews over there as well. At the time of this post, we only have 28 Google reviews and would love to bump it up a bit.
Reviews are necessary evils to survive as a pet care business in Chicago. And we want to survive. Promise. Thanks again. Your support means a lot. You spreading the good word, actually keeps us relevant and a key player while local pet owners are considering who to trust with their beloved animals.

xo,
Julia
Julia Rohan founded Rover-Time in January of 2012 and received her formal training at FetchFind Academy, a program for aspiring dog trainers, based in Chicago. Julia lives in Irving Park with her husband Mark. Together they co-parent Archer, their 4-year old son, Lou, their 6-month old, and Chauncey Billups Vanderhoff, an over-confident, territorial, and anxious 8lb. Chihuahua-Terrier mix. All the boys do a decent job of melting her heart hourly.