March 1, 2021
Meet the dog of the week: Maya
Learn all about Maya from her adventure buddy Chloe
Meet the dog of the week: Maya. This sweetheart is excited to point the way to birds and squirrels.
Dog's Name: Maya
Owner's Name: Jenny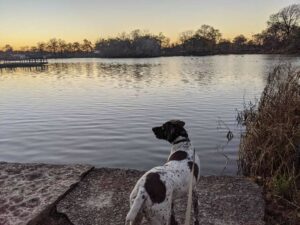 Breed: German Shorthaired Pointer
Birthday: January 4, 2013
What are Maya's favorite foods? Maya has all sorts of soft training treats; she would gobble them up right away.
What are Maya's favorite tricks to do for a treat? We primarily used them when working on walking outside more. She is also fantastic at "sit" and "lay".
What is Maya's idea of a perfect day? Maya's perfect day would involve a massive field full of squirrels and pigeons for her to point and flush out. She is a master hunter, so it's in her genes as a pointer you know. When the pigeons hang around the dog park, she'll be more interested in stalking them than she is playing with the other pups.
Theme Song: The Pink Panther Theme
Favorite Activity: Stalking pigeons and squirrels, Tug, and Fetch
Nicknames: My, Maya-ya, My-YAAAAA (in a sing-song tone)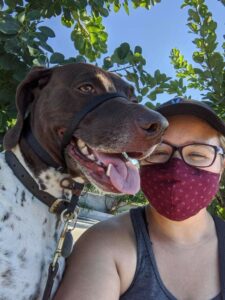 What challenges did you encounter with Maya? Maya is strong and anxious. So it took some time for her to build up a trust level to leave the house and go on walks with me, and then when we did reach that point, she pulled me as fast as she could around the block to get back to the house while I focused on not falling over and trying to get her to slow down a little. Nowadays we go on adventures and we are just fine, she still tugs me around the park a bit but is much more responsive when I ask her to slow down.
What is your favorite memory of Maya? Maya and I have the best adventures. She loves going to the dog park and I am all about playing fetch with her and letting her chase the pigeons. In addition, it's really fun seeing her interact with other dogs. She likes having other dogs around her but doesn't really want/need to be friends with them and the result is very entertaining. Also, I love playing tug with Maya and the inevitable breaks she would take to sit in my lap and request ear/butt scritches.
If Maya had a catch-phrase, what would it be? "Don't move a muscle…"
If Maya was a famous movie character, who would it be? Some sort of lone private investigator, without the brooding and dark past. A bit of an Inspector Clouseau meets Eddie Valiant for example, (Who Framed Roger Rabbit). Picture us chasing squirrels but crunching loudly enough through the leaves for them to take off well before we reach them and Maya just being happy to have seen them at all.
Thanks for reading about cutie-pie Maya
We are so glad you got to meet our dog of the week, Maya. Also, she wants to know if you have a ball to throw her way. Last but not least, keep your eyes peeled for more dogs of the week!