December 11, 2012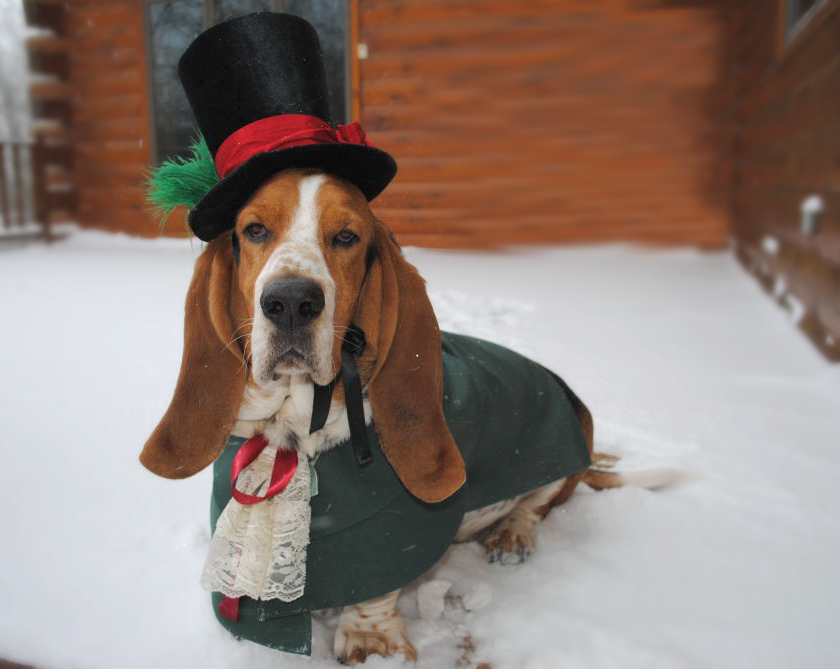 Yuletide greetings! You know, the holidays can be a hectic time, but I thought I'd take a break from the hustle and bustle of downtown shoppers with visions of sugarplums dancing in their sleighs to cozy up in front of the fireplace with a glass of egg nog, my favorite chihuahua terrier, and the ol' Mark's Barks mail bag to answer some of your holiday queries. Let's get right to it!
Q. My family received a poinsettia as a gift, and I'm wondering if poinsettias are poisonous to dogs. – Ralphie in Hohman, IN
A. According to petpoisonhelpline.com, poinsettias are mildly toxic to dogs and present a "minimal" threat. Signs of poisoning include "vomiting, drooling, or rarely, diarrhea." That hardly sounds "minimal" to me, but I guess the point is that they are not necessarily lethal. Plants that are more dangerous to dogs and cats, however, include lilies, holly berries, mistletoe, and rosemary. Be sure to keep chocolate out of reach, too.
Q. What's on Chauncey's Christmas list? – Buddy in New York, NY
A. We've noticed that Chauncey is very fond of the beds that some of Rover-Time's guests travel with, so we're looking at getting him something along those lines. He already has a stocking hanging on our mantel, and that will probably get filled with everyone's favorite Christmas treat: dehydrated lamb lung.
Q. I'm thinking of giving my kids a puppy for Christmas. Your thoughts? – Bob in London, UK
A. While puppies and Christmas are generally recognized as being extremely delightful, the combination of the two is frowned upon by the Humane Society, behavior experts, the American Kennel Club, PETA, animal rights activists, veterinarians, and basically anyone whose job it is to have an opinion on dogs. While I'm sure the readers of Mark's Barks would never act hastily in bringing a puppy home, the worry is that a Christmas puppy could be an impulse buy, but one that requires years of love and care. If you're serious about adding a new member to your family, another idea to consider is to give your kids a leash, a book on dog training, or another pet-related gift on Christmas as a promise that a puppy is coming. Then, when the holidays are over and life has returned to normal, you can all take your time to select the right breed and dog for your family, and introduce it to your home under more normal circumstances. Another good reason to wait- most reputable breeders will not let a puppy go to a new home on Christmas Eve or Day.
Q. What are your favorite dogs from Christmas stories? – George in Bedford Falls, NY
A. The Bumpus Hounds from A Christmas Story, and the Grinch's put-upon little friend (his feet look just like Chauncey's).
Q. I'd like to take my family Christmas Caroling this year, but I'm not sure if I should take our Basset Hound along with us. Do you think he'd be into it? – Clark in Chicago, IL
A. Does this answer your question?
Well that about does it for now. Thanks to everyone for reading and all of your support for Rover-Time in 2012! It was an amazing year and we couldn't have done it without you. Hope your Christmas is merry and bright, holly jolly, and a time for joy and cheer.