May 12, 2014
This month we're excited to feature Felines & Canines. Fun, passionate people; engaging events, with a beautiful adoption facility are the first descriptors I'd use to introduce this amazing Chicago-based, no-kill rescue. They're located in the Edgewater neighborhood and are worth learning more about, especially if you're looking for a place to volunteer and make a difference.
We met with the Executive Director at Felines & Canines, Abby Smith for a short Q&A.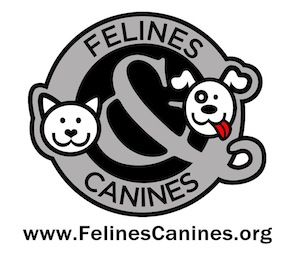 Q. When did Felines & Canines get started and why?
Abby Smith: It started in 1977 when 2 women found a couple of friendly stray cats. They had an open basement in an apartment complex and Felines Inc was born. In 2012, a massive rebuild happened and we became Felines & Canines in order to serve our community better. Our first full year, we did 577 adoptions, 261 dogs, 316 cats.
Q. What is the best part about your job?
AS: The best part of my job is getting to make a difference in the quality of life for both our animals and the people that interact with them. It is so touching to bring a broken animal into the shelter and watch them blossom into a happy family pet. Nothing makes me happier than our Booya pictures!
Q. What advice do you have for people who want to adopt a rescue for the first time?
AS: I always tell first time adopters to keep an open mind and that the "lightning strike" needs to happen. So many times people think they need a certain breed or age and in reality, they may not have the lifestyle that would be best for that specific animal. If you are open to meeting different dogs or cats, you will have a better opportunity meeting the perfect match.
Q. When you are not saving animals what do you like to do?
AS: When I'm not saving animals, I am obsessing about saving animals! I also enjoy movies, dining out and any Housewives series! (I'm not even embarrassed)
Q. Do you have pets of your own? And what's your favorite thing to do with him/her/them?
AS: I am currently owned by 4 cats and a dog. The cats, Frazzle, Moose, Moxie and Moby, and I like to sun ourselves on our large back deck. Knuckles and I love going to the dog beach or up to Prairie Wolf Park.
If you would like to learn more about donating to, volunteering at or adopting from Felines & Canines, check out their website. Be sure to like them on Facebook to get the latest news on their events and adoptions.