January 11, 2019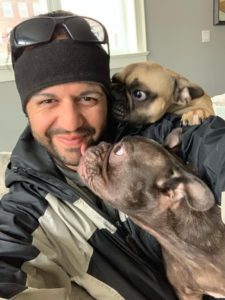 Shaun joined our team in February 2014 and is coming up on his fifth anniversary with the company. For most of that time, he's managed the Andersonville area but has always been willing to lend a hand where we've needed him most. I adore Shaun. And am forever grateful for him.

Knowing that our customers are always looking for a better sense of the person who's working in their home, there's no better person to kick of this monthly series with. Beginning this month, we'll feature Team Rover-Time in a deeper way. It's for you to enjoy but it's also a way for me to say thank you to Shaun.
Shaun, I appreciate you. You make me so proud and I love who you are.

Julia: You've been with Rover-Time for nearly five years. Why? What is it about your route, dogs, and customers? And how can we keep you here for another five years?
Shaun: Working for Rover-Time is an experience in itself. It has been nothing but a joy to work for this company. There are not many people that can say they absolutely love waking up in the morning to go to work but I can honestly say that I do. My route consist of nothing but the best clients and dogs. Our app lets us communicate closer to our clients and build a better relationship than we ever have before. I really love the dogs that I have, I don't treat them like just an ordinary dog but I treat them like they are my own. Going to work and seeing my cute friends every day makes me so happy and in return I make them happy by not only walking them but running and playing with them. Keeping me another five years is not that difficult at all, I consider Rover-Time more than just a workplace, it's a family.
Julia: What are 5-10 qualities that you think are must-haves for new hires coming into Rover-Time?
Shaun: Qualities that a Rover-Time employee must have are dependability, integrity, punctuality, be team oriented and have the ability to have fun. Without these key qualities I personally don't think you can be a perfect employee like we all strive to be.
Julia: When did something start out badly for you but in the end, it was great?
Shaun: Years ago while working for the company I kind of had a breakdown. It was around the holidays and I just couldn't cope not spending it with my mother that past a few years back so I abruptly left the company. After a few months Julia reached out to me to come back. I realized how much I missed my furry friends and the people I worked for. Julia brought back the joy and happiness I was missing in my life and let me start where I left off. She essentially gave me the new lease on life and it turned out for the best. Julia not only gave me my job back but she gave me the hope and encouragement I needed to be happy once again. For this I truly can't thank her enough and it shows how big of a heart she really has. This doesn't only make her an exceptional boss but a true friend.
Julia: What goal do you think humanity is not focused enough on achieving?
Shaun: The goal that humanity is really achieving enough on is peace. People have been talking about peace for years but there are always wars going on, people living in poverty and starving. Being in the military years ago I realized how a lot needs to be changed. I believe humanity has the power to change this if we can all learn to accept one another.
Julia: What is the most meaningful part of your job here at Rover-Time?
Shaun: The most meaningful part of my job is seeing how happy the dogs get when I first walk in the door. Some cry with happiness while others bring me a toy to greet me. I don't think there could be any greater thing than seeing someone you love show you the same love back. Another part are my clients, I have some of the most generous and big hearted clients. They truly appreciate the notes I leave them and the pictures I take of their furry kids. It's an honor to work for such an amazing company, clients, managers and of course my favorite boss I've ever had.
Julia Rohan founded Rover-Time in January of 2012 and received her formal training at FetchFind Academy, a program for aspiring dog trainers, based in Chicago. Julia lives in Irving Park with her husband Mark. Together they co-parent Archer, their 3-year old son, Lou, their 2-month old, and Chauncey Billups Vanderhoff, an over-confident, territorial, and anxious 8lb. Chihuahua-Terrier mix. All the boys do a decent job of melting her heart hourly.