January 20, 2014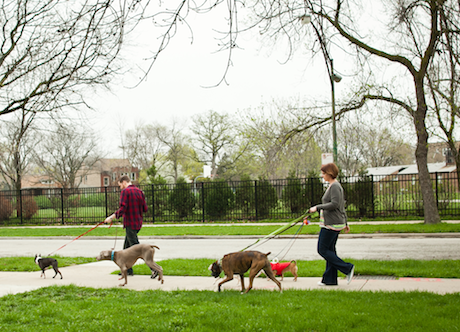 I became a dog walker in 2009 and I still walk our client's dogs five days a week. By 2012 I decided to start Rover-Time and within ten months of self-employment, I hired my first team member to support our dog walking service. Since that day, potential hires from every thinkable vocation have applied to open positions on our team giving up their previous, often much more comfortable and sustainable careers, to walk other people's dogs.
"But really, how hard can dog walking be?"
Totally valid question. My honest answer: it's pretty hard work. There's an awful lot to learn (and unlearn) about the dogs themselves in order to keep both the dog and the walker safe. Careful, professional dog walking demands technical skill, physical stamina, and in-depth knowledge of everything from dog behavior to pet first aid to knowing and understanding city laws.
There's no health insurance or paid time off. And to make extra money you need open availability to work evenings, weekends, and holidays. Chicago's weather can keep you outdoors when absolutely no one else wants to be outdoors with you. And the driving between clients' homes; all the unpaid time spent navigating through slow city traffic, searching for limited, legal (and free!) parking spots comes with the work as well.
So what are the other challenges a dog walker faces?
Time Management
Our days are really intense. We fit in a ton of work within three very busy hours of the day (not many need us before 11 a.m. or after 2 p.m.). Every client has a different routine, every dog a different need.
Patience is necessary always. You never know how difficult an old lock with its poorly copied key will be this time, or what sort doggie destruction you'll walk into, or how easy it is to just blank on an alarm code. Wrestling an energized dog with his harness and winter dog boots and coat takes important minutes from the walk. And the little pups, every single one is always too excited to eat their lunch before you leave, but you need to stay put until they do, so they eat safely.
Stress
The truth is that in order to do this work well – to care for animals and people – the walker needs to be able to care for him or herself first. Just having the technical skills to do the job isn't enough. It's not enough to know how to walk a fearful dog or how to reinforce behavior you want to see more of. Or how to practice avoidance and redirections with a dog set off by bikes, kids, and squirrels.
All of those are skills we need, of course. But you won't be able to practice any of that expertise if you're falling apart mentally, physically, and emotionally. Stress takes away your ability to do good work. It takes away the skills to cope and impairs the ability to connect with other people, think creatively, problem-solve, and work well with others. As an employer, I dream of paying my walkers hundreds of dollars an hour because financial worries create stress so easily. And stress creates burnout. The job has to continue to support the walker with their personal needs and dreams.
Loss
Circumstances that are within our control and out of it do not set us up for the amount of loss we feel when a client cancels service unexpectedly or when their pet passes on. We truly love these dogs; we connect with them as we connect with our own. We learn their quirks, passions, where the excellent spots are for scratching, their favorite treats, all the tricks for catching those good behaviors, and stopping the ones we all find less desirable. We become one of their best friends and we look forward to seeing them on our schedule. When they disappear without notice, without an opportunity to say goodbye, it hurts. No matter the way the relationship ends, we feel a loss.
Then what's the balance? What creates job happiness? That's a pretty simple answer: it's our client's dogs. Here's what some of the team shared with me:
From Dennis… "Creating bonds with dogs that were standoffish with you at first, but now love to see you. I get to play with dogs. I mean how fun is that?"

From Brandy… "You get clocked when they (the dogs) kiss-attack you but they're so adorable that you can't be mad. They are so fun and funny. There's a mountain dog on my route (Theo), and he loves the snow. It's impossible to be miserable about the weather when he loves it so much. His joy is contagious."

And from Andrea… "I really can't think of anything that is "hard" about my job! I feel super fortunate to be able to say that. The best part is being able to spend time with dogs all day."
Job happiness is how you define it and what you'll accept in exchange for it. I remember my days of managing playgroups out of Wicker Park dog park and taking moments to look up and just feel pure happiness (and I've written about this before). It was completely different from anything I ever felt at work for anyone else. Dog walking can truly be one of the most rewarding experiences you'll ever have in your professional life. And it does make you a stronger and better person.
Whether you're a client reading this for a sneak peek into our lives as your walker or you're considering what it would be like to work with us, thanks for reading! In the comments below, I'm presenting a two-parter:
What do you realize now, that you didn't before, about professional dog walking?
Why do you love your dog walker? What is it about them? (Nudge, nudge… say something below, and I will for sure direct that walker to your comment so they can feel the love.)
Next week I'm baaaack. I've got a good stretch of weeks that I'm your resident blogger. We'll discuss why Rover-Time DOES NOT use GPS tracking with its walking team. I know… good stuff, right?
Are you interested in dog walking services and live in Chicago?
Contact us today at support@rover-time.com or visit our Home Page for more information!